Your customers are online and they're searching for your brand and your latest advertising campaign. So how do you respond? Will Easton from Google Australia shares a few ideas to get you started: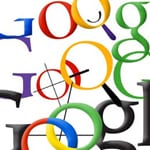 1. Get a website and invest in it. You can use ready-made sites with free tools such as Google Sites and Google Blogger, or build your site from scratch. Improve the design of your website with free services like Google Website Optimizer, which tests variations of headlines, images, and text to identify the best combinations.
2. Find out what parts of your site your customers like – and what parts are sending them packing. Google Analytics is a free tool that can help you understand where your visitors are coming from, how they're finding your site, and what pages they're visiting the most.
3. Increase visibility to attract potential customers. Google's Webmaster Central helps site owners understand how they can improve their ranking in Google's search results. And with Google AdWords, businesses can reach at the exact moment shoppers are searching for their products and services.
4. Measure, test, adapt. The beauty of online marketing is that you can get real time feedback about which keywords attract the most clicks, and use that data to adjust your marketing campaign.
5. Identify new opportunities. Insights for Search helps to grow your business by letting you compare search volume patterns across specific regions, categories, and time frames. You can see where customers are already searching for your service/product, and even compare search volumes by city.