Harvey Norman has announced a profit of $290.04 million, up 15.8 percent on last year, showing there is still life in bricks and mortar retailing and dismissing suggestions from rival Ruslan Kogan that Harvey Norman's business model is dead.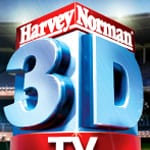 Harvey Norman's acquisition of the Clive Peeters and Rick Hart stores from receivers for $55 million is absent from these results having occurred in July, however Harvey Norman Chairman Gerry Harvey expects the Clive Peeters stores to form the backbone of the retailers expansion plans over the next financial year.
"Following a year of consolidation in 2010, we plan on resuming our store roll out program in 2011. The scheduled opening of five new Harvey Norman complexes in Australia and one in Slovenia during the 2011 financial year is expected to generate free net cash flow from those operations, consistent with our strategic objective to create long term sustainable value for our shareholders. We will continue to invest strategically in property to drive growth in all our brands." Said Gerry Harvey.
Gerry Harvey believes strongly in the potential for growth for the model, especially as Australia continues to expand into new areas on the city fringes with new housing developments.
"Our strategy of operating in high-growth homemaker centres, where we cater for every demographic, combined with our diversity of product range, has contributed to the solid result".
Gerry Harvey has come under intense scrutiny from Dynamic Business cover star Ruslan Kogan for what Ruslan believes is an outdated business model, with the two exchanging words on Today Tonight. Ruslan Kogan runs the online only electronics retailer Kogan.com.au which aims to source technology direct from manufacturers overseas and sell direct to customers online, rather than through an "archaic' bricks and mortar retail model.
Kogan has continued to stir up animosity between the two, airing a TV commercial mocking Harvey Norman during the Ben Cousins : Such is Life documentary (commercial below). Gerry Harvey has consistently refused to debate the young entrepreneur, claiming he doesn't wish to be "brought down to his level".
Gerry Harvey seems content to let the numbers do the talking, with today's numbers only saying good things about Harvey Norman.