Australian small and medium businesses are flying blind when it comes to advertising online, according to a survey of 1,800 Australian business owners.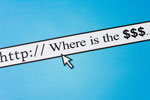 The survey of 1,800 Australian business owners conducted for Yellow Pages found the majority (69%) of SMBs don't measure the return on investment (ROI) of their online advertising spend and only one in 10 (13.2%) base their decisions on where to advertise on the ROI delivered.
According to Sensis' Chief Operating Officer, Gerry Sutton, most SMEs are unaware of whether they are reaching potential customers through their online advertising and how they can make it work harder for them.
"For SMEs, making the right decisions about where to advertise and how to find more customers requires a clear view of how the different elements of their advertising are contributing to the bottom line. This is why measuring and reporting return on investment is so important," he said.
The top reasons SMEs don't measure the ROI of their digital advertising is that it is too time consuming (27%), they don't know how to measure the ROI or they find it difficult.
"Finding the time and resources to develop an effective digital strategy based on ROI is difficult for business owners, but it is also a crucial part of success," said Mr Sutton.
If you want to learn more about building your business online, read out article Top 5 tips for building your business online.