This Easter I caught up with some old friends. One of my single friends shared that she recently had a passing relationship with a man who was "caught up with his own importance!"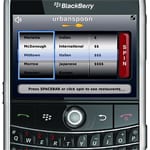 She felt he was a tad egotistical because he took his Blackberry to bed with him!
What the? Was she serious? Abolutley!
Just before they made love and just after he would check his Blackberry. This habit drove her crazy and the inevitable end to the relationship.
I have read that Blackberry envy has replaced penis envy for many men. Men see their degree of importance is based on how many messages they get or how often they need to check their messages. Their personal status is determined by how often, how many, when and where they respond to their emails, texts, update Facebook or send a Tweet.
Well men get your hand off your Blackberries, iPhones and any other device, give your attention back to your lover!
Because the sign of a true man is being able to turn off his technology!
I'm not being sexist nor picking on men but it does appear many men have a closer affliction to their technology. Nevertheless, I am sure there are men reading this blog that know a woman who also has similar habits with their technology.
In reality, for 99% of the population, no email, text, Facebook update or Tweet would be telling you that your business has gone broke or there has been a death in your family. These are true emergencies where people will call you and talk to you.
If you are expecting an important text or email, then sure check. But again for 99% of the population, this email or text would be unlikely to come after 6pm and before 7am.
When you check your technology in non-work hours you add stress to your life – I mean how can you solve the work problem at 10pm when most people are on the couch watching TV and having a wine! But more importantly, you will add stress to your relationships.
Those of whom you have relationship with are happy to share your attention between 7am and 6pm but when you come home they want your attention. They want a two way relationship with you.
Please, I am not saying don't check your emails, texts, Facebook or Twitter.
I am just saying at certain times it is OK to turn off technology. I am giving you permission and encouraging you to turn it off.
Remember, you will stay alive if your technology is off.
Your technology is not your heart nor is it the power source for your heart. But continuing to check your technology could end up breaking your real heart!
Tip – help set the expectations for your clients and customers, by communicating when you check emails and when people can expect a response. For example, my voice mail says that you can expect me to return your call within 48 hours between 9am and 5pm.
Happy Easter – I hope you had a happy Easter and wherever you are, the Easter bunny found you . . . and then you found your exercise shoes to burn off that chocolate!