Google is making leaps to ensure it covers as many personalised online needs as possible, today launching a service that enables users to store photos and videos for free.
Google Photos is being pushed for those tired of having their photos and videos stored in a variety of devices and systems. The new service will allow you to store unlimited high quality photos (maintaining resolution up to 16MP) and videos (keeping 1080p high definition quality) to one location – for free. Understandably, there will be some compression involved here.
Once set up, images and videos will be automatically backed up and synced, with access then available across various devices.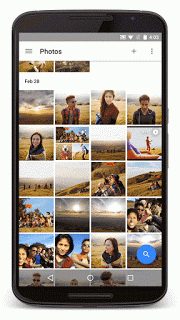 "Google Photos automatically organizes your memories by the people, places, and things that matter. You don't have to tag or label any of them, and you don't need to laboriously create albums," Anil Sabharwal, Head of Google Photos, said in an official blog post.
"When you want to find a particular shot, with a simple search you can instantly find any photo—whether it's your dog, your daughter's birthday party, or your favorite beach in Santa Barbara. And all of this auto-grouping is private, for your eyes only."
Other features include the ability to adjust images within Google Photos, including capabilities to tweak an image's colour and lighting, and the ability to create animations, movies with soundtracks and collages, all with the "+" button.
Social media sharing features are obviously a necessary addition nowadays and Google Photos content can apparently be shared "across any service you choose." Hundreds of pictures can be shared to specific recipients at once, with content appearing in their library "with a single tap".
"If you want to give Google Photos a whirl, it's available now on Android, iOS and the web," Mr Sabharwal said.
"With this launch we've made a lot of progress towards eliminating many of the frustrations involved in storing, editing and sharing your memories."