Coles has refused to put the prices of its groceries online, fearing comparison shopping with rival Woolworths and independent retailers.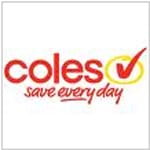 Coles' rival ALDI already publishes its prices online with arch rival Woolworths beginning the roll out of its own pricing after announcing a $2 billion profit this morning. Coles fears direct comparison from the comfort of ones own home with Woolworths as forcing the supermarket chain to not list its prices online.
Grocery Choice was the failed experiment spearheaded by the federal Labor government some 14 months ago, where plans to move to a self regulated industry site lead by the Australian National Retailers Association also failed to reach fruition.
Coles spokesman Jim Cooper told the AAP that the supermarket's customers were not interested in online pricing, that the cost of developing a comprehensive site was prohibitive given that online pricing was not high on Coles' customers' list of demands.