From the morning commute to pre-sleep routine, social media is never far from your fingertips.
But despite its ubiquity among consumers, the same cannot be said for SMEs, where only 30 per cent and 32 per cent of small and medium business respectively have a social media presence (compared to more than half of large companies), according to the most recent Sensis Social Media report.
Facebook counts more than 14 million Australians among its members, while nearly half of us check our social media sites every day. For reasons spanning a lack of budget, technical familiarity, time and perceived value, SMEs are missing a golden opportunity to connect directly with their customers – current or potential.
Put simply, you have to fish where the fish are.
Recent trends in social media are putting to bed many misconceptions about social media, chief among them that social is either time consuming or irrelevant.
There's no doubt social media has become critical to growing your business and, for SMEs, it can actually be one of the most cost-effective ways of raising your profile.
With an ever growing selection of digital channels to choose from, it can be difficult for SMEs to know where to start or even keep up with the changes.
Here are seven trends in social media affecting SMEs.
Rise and rise of search
Search engines remain the most popular way behind word of mouth for people to find information. Ensure your website is geared for search first before you focus on promoting it via social media. Most important is to make sure your website is geared for viewing on mobile devices; Google may actually penalise you if your site is not responsive to mobile devices.
Twitter and Google unite
Search giant Google was recently given full access to the vast amount of data being stored by micro-blogging site Twitter. This means that, theoretically at least, what people tweet will have a greater impact on how a company appears in search results. While it's early days in the partnership, Twitter could be a unique way to help your company climb to the top of the search rankings.
Ease of advertising
Facebook, Twitter and most other social sites offer paid advertising, and have spent much time simplifying the process. The result is that it's never been easier to jump in and start promoting your business. Social media advertising is highly targeted and relatively cost effective – we recently ran a Facebook campaign for a client that cost around 50c every time someone clicked a link on Facebook which directed to their website. Spending a couple of hundred dollars could net you 400 new website visitors.
Reduction in social footprint
You can't attend every party, so why bother? The same applies to social. It's becoming common for businesses, particularly SMEs, to focus on just a few social channels rather than spreading themselves too thin. Do some research on where your customers spend most of their time to get the best bang for your buck. Cafes and restaurants for example should be capitalising on Instagram users' love of food photos while accountants and professional services can tap into LinkedIn's more formal audience to great effect.
Video and rich content
Online video consumption continues to grow, so SMEs should consider how to harness the power of visuals to grab attention. Remember that every phone is a camera, and with a myriad of free video and photo editing software available, you can post professional looking content for a fraction of what you would pay a professional.
Arrival of Instagram
The photo-sharing site is now the second most popular social channel behind Facebook, with 5 million members and growing. If your business lends itself to visuals, Instagram is an essential tool.

Breakdown of the digital wall
The power of social comes from integrating it into every part of your business. Put your twitter handle on your business cards, include links to your Facebook page on your website and add your LinkedIn page to your email signature. The best SMEs on social have integrated it as part of their everyday business.
A final piece of advice is authenticity. You don't need fancy camera equipment or expensive apps to run a great social media site.
Many small businesses have built strong social media followings with nothing more than an iPhone, some free iStore apps and a bit of swagger. One of my favourite is Melbourne based fitness coach The HIIT Mum who has more than 100,000 likes on Facebook. Her secret? Posting interesting, authentic content that resonates strongly with her audience – most of it recorded directly off her iPhone.
---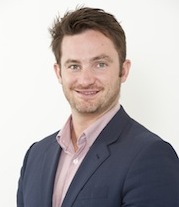 About the Author:
Ben Oliver is the Digital Lead for Buchan Consulting, an integrated communications agency based in Melbourne and Sydney. For more news and trends on social, visit the Buchan Blog.