In Sydney, businesses that utilise a co-working space instead of entering a traditional office lease could reap savings of around 25%, according to Hub Australia.
The co-working space provider compared a typical commercial lease in Sydney CBD with its Hub Hyde Park co-working space, set to open in early 2018. The comparison took into account the leasing of physical space as well as common services, including utilities, cleaning, amenity and a receptionist.
To produce the comparison (see table below), Hub Australia relied on commercial office lease data provided by real estate agency Knight Frank, whose Head of Occupier Solutions John Preece said business margins are being placed under pressure as vacancies in the Sydney leasing market head to "historic lows", which means "hefty rental hikes and smaller incentives."
He added, "With occupier demand particularly buoyant in the sub-500sqm sector, co-working facilities provide a valuable alternative to a traditional lease and with the additional benefit of cost savings and flexibility of term, this is something which businesses are considering more seriously than ever before."
Brad Krauskopf, founder and CEO of Hub Australia, told Dynamic Business that prices in Sydney's "extremely competitive" leasing market have made it "increasingly difficult for business operators to find space in a central location with good transport arterials and public transport" and that this represents "a barrier to innovation and success across the city".
He also indicated that traditional office leases don't afford business operators flexibility to adapt to changing business circumstances.
"It's no longer possible for businesses to know where they will be in 12 months, let alone five or 10 years; however, leases are long-term legal contracts which you cannot break as your requirements change," he explained.
"Co-working, on the other hand, allows businesses to scale the space needed – up and down – as their teams evolve. At Hub, we recognise the needs of a business continually evolve. That's why businesses pay for what suits their current needs, without the risk of limiting their options for the future, and why we offer a variety of spaces such as private offices, dedicated and flexible desks and a bespoke option for large businesses or satellite corporate teams.
"Also, notice periods are measured in days or months, not years, and there are no bank guarantees, lock-in contracts or surprises."
As well as providing a "viable alternative" to traditional office leases that "helps with the bottom line", Krauskopf said co-working environments "generate real business value."
"Over fifty percent of our members do business with other members and increasingly we find the number one reason businesses choose to grow their businesses at Hub is their ability to attract and retain talent," he said.
"Our team is hired, trained and resourced to support our members and there is regular learning, social and wellness opportunities that we organise that in turn our members can provide to their teams. Meanwhile, the design our co-working spaces is also optimised to ensure serendipitous encounters between members, ultimately fostering a vibrant and engaged business community."
"Growing businesses of all sizes can benefit from co-working – from a small one-person start-up to large corporates looking for space to place a satellite or project team. I've seen a trend in businesses sized between 20 to 100 people moving into co-working spaces and I think this is the next stage of co-working's evolution in Australia. Co-working has grown up and bigger businesses are starting to take notice."
Asked how Hub Australia is able to deliver businesses potential savings of around 25% in Sydney, Krauskopf said amenities such as a kitchen, gym and meeting rooms together and services such as a receptionist are shared, meaning costs are be dispersed amongst its members via membership.
"The sharing economy is growing in popularity in all sectors and the workspace is one area that this model can offer significant savings," he said. "In particular, the real estate innovation of co-working is enabling businesses to not just set up in Sydney but also thrive in the city.
"The savings of a coworking space compared to a traditional office lease are similar in Melbourne. While the Melbourne leasing market isn't as competitive as Sydney, it's still putting pressure on businesses and coworking continues to become a popular and viable option."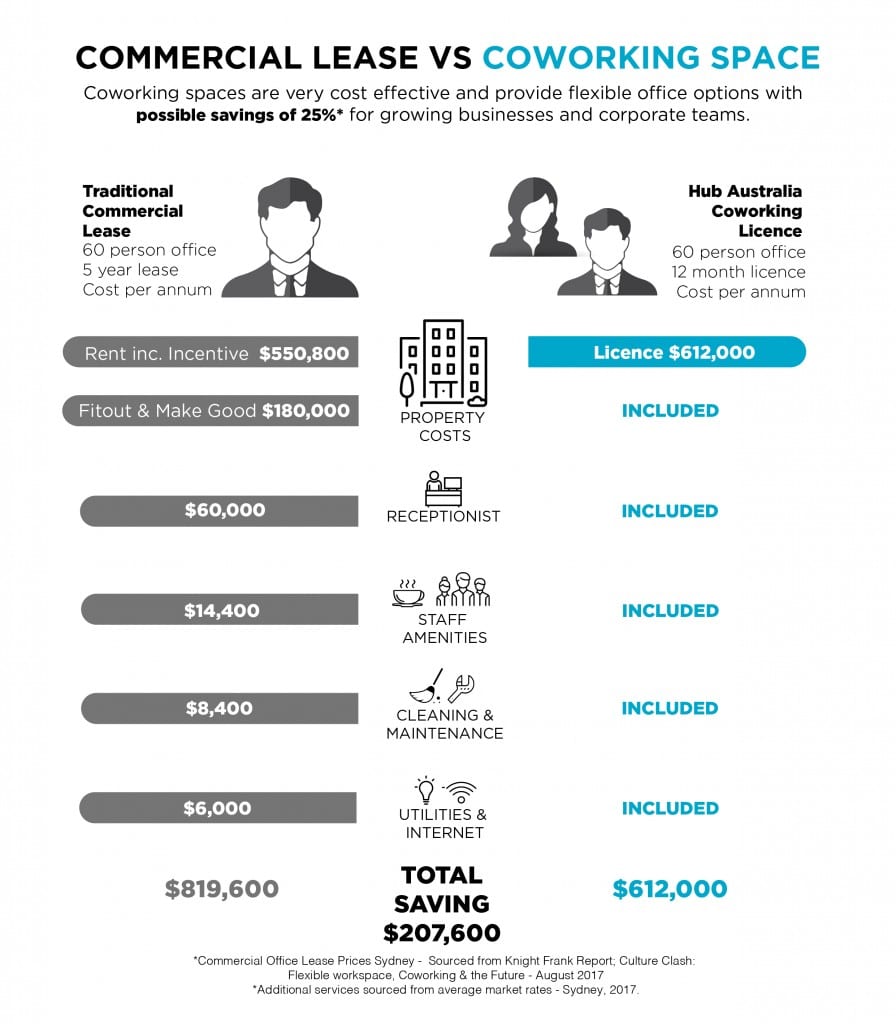 See also: There are lots of co-working 'flavours': how to find the one that will satisfy your startup, Hub Australia's CEO on the next evolution of his business and the co-working movement and Diverse co-working ecosystems generate innovation and huge amounts of B2B trade.