Australian-born Cafe2U, the world's largest mobile coffee franchise, is preparing to expand its operations internationally in the US marketplace, after successfully launching the concept run in California's San Diego region in June 2010.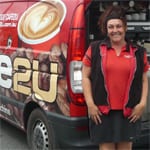 There are currently 106 Franchise Partners operating across Australia with a further 52 operating in England, Scotland, Wales, Northern Ireland and Ireland.
"Consumers have been very welcoming of the mobile Cafe2U concept, which is unique and the only one of its kind in the US," said Managing Director Derek Black.
To continue the growing success of the franchise, Cafe2U will be actively seeking out to entrepreneurs in the USA who are interested in territory development and franchise sales. Cafe2U will be on the hunt for partners who share the same vision for the brand that the Australian-based Cafe2U international directors have.
"We see America as a key market for the brand. The US market represents a mature coffee market with many significant opportunities to stimulate growth. With the recent winner of the World Barista championships coming from the USA, the interest in espresso based coffee is rapidly accelerating.
Since the launch, we have noticed that Americans have been very interested in the new concept of having espresso-based coffees available at their workplace door – made fresh to order," said Black.
He said the franchise concept had enjoyed success overseas due to the same model fundamentals that have seen a 30% growth figure nationally year on year for the past three years, despite the GFC.
"It offers franchisees the freedom to choose their working hours and location within their own exclusive territory. You do not need to have prior hospitality or coffee related experience. Buying into a franchise business of this nature is becoming increasingly popular, as many people are leaving behind the shackles of office life and pursing interests enabling greater self-responsibility."
As Cafe2U expand internationally, NZ and China are also under negotiation.