Maximum Adventure last weekend had the opportunity to compete on a level playing field with some of the largest, multi-national corporations across the globe after winning a competition hosted by Vodafone.
In a world-first, Vodafone earlier this month gave its SMB customers across Australia a once-in-a-lifetime marketing opportunity when it asked them to demonstrate what it would mean for its company to adorn the Vodafone McLaren Mercedes MP4-25 car at the Australian Grand Prix in Melbourne.
The Maximum Adventure logo replaced Vodafone's two logos situated on the chassis by the cockpit while two representatives from the company were treated like true sponsors of the team with a three-day VIP pass to the 2010 Formula One Qantas Australian Grand Prix, flights and five-star accommodation listed among the unforgettable prizes.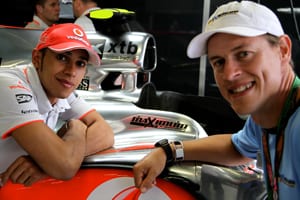 Established in 2002, Maximum Adventure hosts a series of large-scale adventure races, sporting and corporate events across the nation for novices and experienced athletes alike. The company is currently channelling its focus on the upcoming 2010 Tough Bloke Challenge Series (www.toughblokechallenge.com.au), a competition designed to test the strength and endurance of thousands of male and females Australians across the country.
To celebrate the prize, Maximum Adventure is to offer readers $10 off the entry fee to partake in the 2010 Tough Bloke Challenge and Tough Chick Challenge. Click on http://tinycc/sbtw3 to find out more.
"We received entries from literally hundreds of Vodafone SMB customers across the country," said John Casey, Chief Marketing Officer at Vodafone Hutchison Australia. "Maximum Adventure is a perfect example of a hard-working Aussie business. This unique opportunity gave the company the perfect chance to take centre stage at one of the foremost events in the sporting calendar – something that would normally be completely out of reach for a business this size."
Gary Farebrother, Events Director and Founder of Maximum Adventure, said: "Our motto is Living Life to the Max, which we believe has an ideal synergy with Vodafone and the Grand Prix. We're excited that this opportunity will help expose our brand and services to a much broader market, and in turn encourage more Australian's to inject some adventure in to their lives.
"From deep in the Australian bush to deep in the urban jungle – our outdoor adventure races will help even more people discover how they can get active outdoors and in the fresh air", he added.
The competition coincided with Vodafone's landmark launch of its $75 Unlimited Business Cap, which is set to liberate Australian small businesses from their office and their traditional dependence on a fixed line.
"Vodafone remains as committed as ever to supporting small and medium-sized businesses across Australia and the new cap emphasises this," said Casey.  "Introducing the $75 Unlimited Business Cap, coupled with this fantastic Formula One competition, demonstrates our understanding of Australian businesses and their need for great value."