Domino's Pizza and Crust Pizza have both issues statements confirming that Crust Pizza is not a takeover target for larger rival Domino's.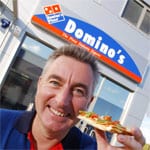 Crust Pizza founder and managing director Costa Anastasiadis said in a statement the company is booming with no intentions to sell to Dominos's.
"We've had a very successful year with over 100 per cent growth in turnover, nearly doubling out total store numbers and expansion into WA, Tasmania and Singapore. Business is booming and we have no intention to sell the business to Domino's."
Domino's Pizza CEO Don Meij, confirmed in a statement that they have no plans to acquire the fast growing Crust Pizza chain.
"Domino's Pizza Enterprises Ltd (DMP) would like to confirm it has no intention to purchase Crust Pizza. Recent speculation about DMP being in negotiations with Crust Pizza is unfounded and incorrect."
Both Domino's and Crust are on the cutting edge with experimentation with social media, both have Twitter accounts and are active on Facebook. Crust Pizza has grown it's profile on Twitter considerably over the last 12 months through its #Crustfreepizzafriday pizza promotion and has grown it's footprint to over 60 stores in Australia, New Zealand and Singapore.