Airlines have realised for sometime that the key to repeat traffic is creating loyalty —  they compete vigorously with frequent flyer programmes offering various options, awards and upgrades.
But here's the real secret that all frequent travellers know… it's not the number of miles you earn — it's your "status" with the airline.  It determines where you sit, what you eat, what lounges you can access and in some cases what you pay.  The smart airlines know that many of their passengers are constantly looking for ways to improve their "flight" status, their chance of an upgrade or that opportunity to secure that magical "Gold" status.
The very smartest airlines are using social media to talk directly with their frequent flyers, to find out what they like, dislike and to create a community.  Air New Zealand are probably the best (and not just because I fly with them).  They know that social media is really about… "listening", sharing and connecting.
Knowing that many customers are trying to "improve" their status, Air New Zealand introduced the Airpoints Fairy online and on Twitter to connect with real passengers and grant them un-expected wishes like a free upgrade or access to the business class lounge.  @AirpointsFairy allows Air New Zealand to connect in real-time with their clients, understand their wishes and for a select few – very publicly grant them.  With over 2000 frequent flyer followers chatting daily, it's something to behold to have a grown businessmen chatting online to a fairy asking for his wish to be granted!
Some requests:
@kingcash4: @AirpointsFairy been flying with you for 13 years- All I need is 65 airpoints to finally make gold..pleeasse!
@nzregs: @AirpointsFairy i wish i had 2112 airpoints to take the wife and baby to aitutaki for a break :]
@swiftynz: @AirpointsFairy Dearest fairy, I wish I could be a Silver airpoints member. To have those privileges would be simply sublime!
And the responses from @AirpointsFairy…
@PaigyPea your wish for Christmas acess to the Auckland Domestic lounge has been granted. Please DM me your Name and Flight Number
Wish granted for @Stowers_ @AirpointsFairy I wish I had 47 status points to upgrade to Silver status. Enjoy you silver sparkle
First wish of the year granted to new follower @SheldonNesdale He needs 50 Airpoints Dollars to get to Hamilton – Plz DM me your AP#
Even better… this Twitter property allows the airline to leverage corporate news – recently Air NZ won an international award and @AirpointsFairy helped promote this achievement by gifting cakes to her followers…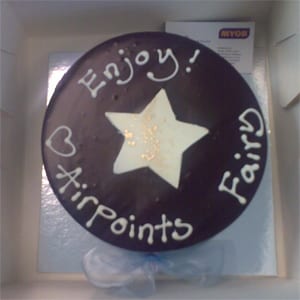 And you guessed it, my sycophantic tweet secured one for the MYOB office.
See fairies do exist!