Microsoft has unveiled KIN, a family of Windows Phone devices that puts your social networks in your pocket at all times, aimed squarely at the Facebook generation.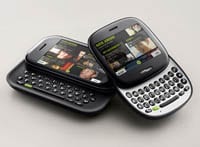 Microsoft describe KIN as the "ultimate social experience that blends the phone, online services and the PC", which is essentially a fancy way of saying the phone will link in with your social networks such as Facebook and Twitter, as well as some nifty integration with what was previously the SideKick online service with online integration with services called "the Loop, Spot and Studio" for KIN (video below).
"Working closely with our partners, we saw an opportunity to design a mobile experience just for this social generation — a phone that makes it easy to share your life moment to moment," said Robbie Bach, president of the Entertainment and Devices Division at Microsoft.
"We built KIN for people who live to be connected, share, express and relate to their friends and family. This social generation wants and needs more from their phone. KIN is the one place to get the stuff you care about to the people you care about most."
Microsoft launched two phones, called KIN ONE and KIN TWO respectively. Both having a touch screen and slide-out keyboard, but with KIN ONE essentially the baby brother of KIN TWO, the phones having 5 and 8 megapixel cameras respectively.
Unfortunately the Microsoft KIN phones are limited to the CDMA network, at least initially. As such they wont be headed to Australia's shores in the near future and are limited to CDMA networks such as Verizon in the USA.
Video of KIN Studio.
Click here for more video's on the Microsoft KIN YouTube channel.