The Australian Labor Party is gearing up for an election campaign fought and won through social media, implementing a social networking and community engagement platform, called Campaign iQ.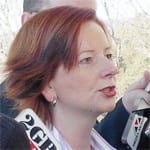 Campaign iQ was developed by Australian companies Campaigns & Communications Group (C&C Group) and Community Engine, and is claimed will enhance the existing alp.org.au website, allowing the ALP to connect with members and create community advocacy through participation online.
Australian Labor National Secretary Karl Bitar emphasised this wasn't just a gimmick, shying away from suggesting there would be an iPhone application from the ALP in the future.
"This platform will enable the public to be at the centre of the political debate through increased participation, collaboration and a deeper level of engagement with the Party."
"This is not about social gimmicks but about genuine engagement and lowering the barrier to participation in the Labor Party and Labor movement," Mr Bitar said.
C&C Group Managing Director Michael Allen was quick to point to the success of the Obama 2008 presidential campaign as evidence that social media political campaigning works.
"The rise of social media as a political communications tool is on a par with the advent of television and the telephone – it has forever changed the way political parties connect with voters and is an important component of effective campaigning." he said.
Community Engine Managing Director Piers Hogarth-Scott believes in the power of communities to mobilise and connect online and become advocates in the offline space.
"Ultimately, our objective is to facilitate deeper community engagement through the delivery of powerful communication tools. We believe in the power of communities and we aim to add value to them by making communication with, and among, all their members easier. The Federal Labor Party, through this initiative, is acutely aware of how important that communication is," he said.