Google have launched an advertising platform for Google Maps allowing businesses to place ads within maps to be displayed to users as they use the service.
Debuting in the Australian version of Google Maps initially Google has ads from companies like Bankwest, LJ Hooker, JB HiFi, NAB, and Chemist Warehouse. With these companies logos becoming visible when users zoom in over where these businesses have locations. Ads will only remain visible to users if they are interacted with over time, with a lack of interaction suggesting a lack of relevance to users.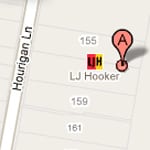 Matthew Leske product manager of Google Maps said in commenting on the Google Maps advertising platform launch,"the primary thing was to help users, how do you help people recognise instantly a location," Mr Leske said. "The second thing was how can we let advertisers take advantage of this."
Mr Leske said that the new Google Maps advertising model was useful to help people clearly identify locations based on brand logos, for example, locating a Bank's ATM's.
"Our feedback has been excellent so far." Mr Leske said.
Initially advertisers would be charged on a cost per thousand ad impressions (CPM) basis for each logo, even when the company appeared multiple times for a user.
Unfortunately for the initial roll out of the ad platform, it will only be supported on desktop and laptop PCs, and will not be available to mobile devices just yet. This is an unusual move as location based advertising and location based social networks such as Foursquare take off in a big way.