Australian mobile phone users spending five times as much on mobile downloads as they did two years ago, the latest Mobile Data Survey has found.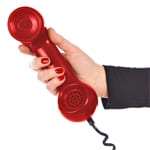 The third annual Survey, this year conducted by Griffith University, Complete the Picture Consulting and the Mnet Group, today released the global snapshot of mobile phone usage after surveying 3,500 Australians online.
The Survey tracked user engagement with mobile phone data services and compared Australian results with other countries such as the USA, Taiwan, Eygpt, Japan, Korea and China.
Around one third of Australians are willing to pay a monthly fee of $50 plus for unlimited data access, Griffith University's Associate Professor Sharyn Rundle-Thiele.
"Just 2 years ago, none of the respondents were willing to pay any more than $10 per month for unlimited access," Professor Sharyn Rundle-Thiele said.
"However, the base level of mobile data users in Australia continues to hover around the 50 percent mark, with 40 percent owning smart phones," she said.
"This is still higher than the US markets results, which show 33% of respondents using mobile data services, and only 20% owning a smart phone."
Around 70 percent of Australians spend $30 or more per month, with around a third of the Australian respondents spending more than $60 per month. The US has a similar spending pattern with 80% spending $30 or more per month and 44 percent spending more the $60 per month on their phone bill.
Current consumers of data services in Australia and the US are also accessing a similar and vast range of different service types.
84 percent of current users of a mobile data service (MDS) browsed the mobile web
47 percent of current MDS users carried out a mobile commerce activity like buying goods, making reservations
82 percent of current MDS users have used information services on their mobile phones (e.g. news, sports, weather, maps)
71 percent have used entertainment services (e.g. games, music, movies, TV) on their mobile phones
Australia's current mobile data service users are leveraging many of the benefits of accessing data services on their mobile phones. Most of them (80 percent) agree that for them "the mobile phone is not just a phone, it is a multi-media device!"