The Australian Retailers Association (ARA) is urging its members to consider their right to apply surcharges for credit card purchases, with consumers who pay in cash likely to welcome the practice.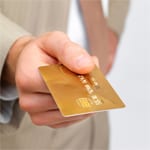 ARA Executive Director Russell Zimmerman said the Reserve Bank allowed retailers to directly charge their customers for the cost of accepting credit card transactions but many retailers still chose not to do so.
"Good retailers understand that they must consider their customers experience when deciding whether or not to directly charge for credit card usage and the majority won't overcharge or charge at all.
"Charging directly for credit card usage is also about customer choice because it creates a user-pay system instead of the merchant service fee being absorbed into the price of all goods, just like other operating costs.
"Businesses who charge directly for credit card use must inform their customers that the credit card fee will apply and also disclose the amount as a dollar or a percentage before they enter into the transaction, giving consumers the ability to make an informed decision about the means of payment that represents the best value for them.
"At the end of the day, retailing is driven by consumer demand and if charges for using credit cards are deemed unacceptable by consumers this will affect the individual retailer's bottom line.
"The Reserve Bank's decision back in 2002 to allow retailers to choose whether or not to pass on the cost of accepting credit card payments created the opportunity for a user-pays system," Zimmerman said.