Let's face it: car ownership can be expensive and impractical, especially if you drive infrequently and live in or near an urban centre where parking is increasingly scarce. Still, people want the freedom to use a car at any time. Sydney's Will Davies and Dave Trumbull saw an opportunity for an eco-conscious model of vehicle ownership where the existing car population is transformed into a fleet of money earners and money savers.
Co-founded in 2012 by Will and Dave – the CEO and CTO, respectively – Car Next Door is a peer-to-peer car sharing platform that earns money for car owners by letting them rent their idle vehicles to a network of trusted and eager borrowers, located nearby. To ensure transactions are safe, fast, and hassle-free for both parties, the platform features vehicle and membership criteria (e.g. ID, credit and driving history checks), an online booking and payment system, 24-hour support, insurance and in-vehicle technology (i.e. a GPS tracker and lockbox technology for key exchange).
Car Next Door currently operates in NSW and Victoria, chiefly Sydney and Melbourne, and recently expanded into Newcastle – its first regional centre.  To date, more than 17,000 borrowers have signed up to the service, using the user-friendly mobile site to tap into a fleet of 450 shared vehicles (cars, utes and vans) for more than 40,000 booked trips.  Its co-founders attribute the business' growing success to the volume of referrals and word-of-mouth.
"In Bondi, where Car Next Door started, there is now a shared car within a few blocks of any resident," Will told Dynamic Business. "In some of our newer suburbs, like Melbourne's Elsternwick, the density is lower."
The ultimate goal, Dave added, is for every person living in an Australian city to have a shared car accessible within five minutes' walk: "It's a big goal, and we've got a lot of work to do to get there!"
A win-win situation
Will, whose previous entrepreneurial endeavours include founding and growing a mortgage broking business, said Car Next Door presents car owners and borrowers with a win-win situation. By listing cars for rent on carnextdoor.com.au, owners generate an additional passive income. Meanwhile, borrowers gain access to a convenient and flexible rental option that can save them hundreds of dollars per week.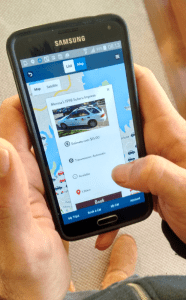 "On average, owners earn $2,400 a year by renting their car out through the platform," Will said. "The top 10% of owners are earning $7,000 per year, with some earning over $10,000. This definitely helps offset the standing and running costs of a car, like registration and insurance. Wear and tear and fuel consumption, due to borrower use, is covered by the per kilometre fee owners receive.
"For Borrowers, renting a car just for the hours or days you need it is lot cheaper than owning a car, if you're only driving a few times a week or less. Say you need a car on Saturdays to head to the shops, the beach, visit a friend, and just get around town for the day: you can rent a car from a neighbour for $25 to $30 for the day, plus 33 cents per kilometre. Your day's driving might only cost $40 or $50, whereas owning a car costs several hundred dollars a week on average.
"In the rare event where a car is damaged by a borrower, the owner isn't out of pocket; instead, the cost is covered by borrower and fleet insurance. Additionally, Car Next Door arranges for the car to be picked up, taken for repairs, fixed and delivered back to the owner."
A common sense solution
On top of delivering quantifiable benefits for owners and borrowers, Will said Car Next Door is an environmentally-conscious platform.
"Car sharing has led to reduced demand for new cars and the more efficient use of existing vehicles," he said. "By endorsing this model, we're trying to make driving a conscious choice, rather than the default. In addition, our carbon offsetting program means that all emissions generated by borrower's driving are offset through Greenfleet's native reforestation projects around Australia."
This focus was deliberate, with Car Next Door established as a common sense solution to the current model of car ownership, deemed 'costly and wasteful' by Will.
"I was looking to start a new business that had a really positive impact on the environment," he said. "For me, that was reducing the amount of greenhouse gas caused by human activities. The overproduction and overuse of cars is a big part of that problem, with a third of the land in Australian cities used to store cars, most of which do nothing 95% of the time.
"While living in Bondi, I noticed car sharing companies bringing more vehicles to the area even though thousands of vehicles already sat idle all day. I started looking into it and found that in England and the United States, companies were setting up a kind of Airbnb for cars and that just made so much sense to me. I thought this kind of personal, peer-to-peer car sharing network would work really well in Australia.
"I partnered with Dave, an IT expert and a former flat mate who I'd met at university, and we started talking to companies doing the same thing overseas. We found a software provider that had an existing car share platform and was interested in building a peer-to-peer version. The initial funding came from their co-founders putting in cash and sweat equity, and we worked out a deal where they would get equity instead of cash. Once we were a bit more established, we got investment from friends and family."
'Make or break' challenges
Success wasn't guaranteed; rather, Will and Dave faced some of the classic 'make or break' startup challenges in the early days. One such challenge was having to forgo an income while raising capital and getting the business of the ground.
"Dave and I didn't take a salary in the beginning, which was difficult," Will said.  If we hadn't truly believed Car Next Door was going to be good for people and the planet, it would have been really tempting to give up in those early days. It took us six months to secure first-fund seed funding. Fortunately, by August 2013 we had raised $650,000. These days, we are comfortable with our capital raising strategy. Since last November, Caltex have invested $2.5 million in the platform and we've raised $1.6 million in venture capital including $300,000 from Steve Baxter, and one of the 'sharks' on Network Ten's Shark Tank."
Another challenge faced by Will and Dave was ensuring the technology underpinning the service supported their ambitions for the business, rather than restricting their consumer offering.
"We initially used a third party platform, which was great for getting started but soon became a huge burden," Dave said. "We didn't control this platform, so we couldn't easily innovate and improve it. This left us with a touch choice: accept the limitations and stick with what we had or go to the colossal effort of building our own platform from scratch and switching over to it.  We spent more than 12 months building our own platform but it paid off. If we see a problem or have a new feature we want to add to our platform, we can implement and turn it around within a week. This used to take three to six months!"
Future-proofing the business
In addition to strengthening the network of owners and borrowers in their existing markets, Will and Dave are planning to expand into new suburbs, cities and towns across Australia, with the aim being to have a fleet of 10,000 vehicles nationwide by 2020.  To stimulate and manage this growth, the co-founders are stepping up their efforts to market and raise awareness of the platform; recruiting new members to their development team; and working on a robust and flexible IT platform that will allow them to take on a greater number of bookings per day.
Beyond 2020?
"We've landed ourselves in literally the most fast-changing and soon to be massively disrupted industries – transport," Will said. "To stay ahead, our longer-term view is centred on the arrival of driverless cars and integrating this new technology into our business model."