For Sunshine Coast writer, Celeste Mitchell, starting a new business was far from the mind. Celeste shares her story with Dynamic Business reminding us all that opportunities can be found when they are least expected, and should be pursued.
The flexibility offered by freelance work attracts many in an environment technologically equipped for work just about everywhere. But, it isn't for some. As a freelance writer working from the comfort of her home, Celeste found her motivation dwindling.
"Working from home, I know how isolating it can be," Celeste said. "As a writer I know my best ideas come when I'm out in the world."
After visiting co-working spaces in Brisbane and discovering the growing trend around the world, Celeste knew that the Sunshine Coast needed a hub of its own.
"I felt the Sunshine Coast really needed a creative hub of the same caliber so freelancers, start-ups, entrepreneurs and virtual employees could come together to get work done in a beautiful inspiring space."
Russell Mason from Regional Development Australia who has been instrumental in the research carried out under the Digital Work Hub Project, said there's a pent-up demand for co-working spaces on the coast.
"We believe there is room in the region, not just in Maroochydore, for a large number of these spaces."
Celeste, with the support of her partner, sought to fill this gap and in March 2015 an old church hall in Maroochydore CBD became Share Space.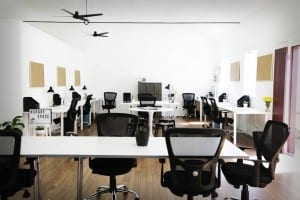 Since the doors opened, Celeste said the business is experiencing "impressive take-up from not only locals but visitors who are escaping European winters and wanting to base themselves on the coast.
"We have a nice crew of regulars – everyone from writers, to graphic and web designers, photographers, videographers and web and app developers. Even a hoola-hoop instructor. The demand for workshops has also been surprising as more and more people identify the opportunity to share their skills."
Kristy Lee Crane from Perception Pilates said "It's giving me a great space to launch my business and I'm really looking forward to connecting with a whole community of creative minds."
The success Share Space has enjoyed is owed to variety of factors according to Celeste having formed some key partnerships with organisations such as the Innovation Centre Sunshine Coast and the University of the Sunshine Coast.
While creating a presence in the physical space is important, Celeste said Share Space is currently "working hard to build its social media presence and planning more events like Nibbles & Know-How to spread the word."
When asked what sets Share Space apart from other co-working spaces the answer was simple: "we work hard to make it a really functional, multi-use space."
As well as providing a comfortable environment or individuals, Share Space has a diverse portfolio of clients hosting pilates classes, workshops and information evenings.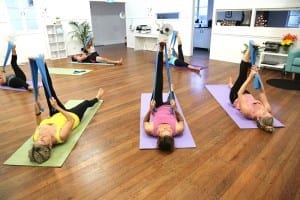 With the business taking off at incredible speed, plans for the future are already underway.
"I hope to see more workshops being held here, hosted by Share Space, bringing in guest presenters who are experts in their field.
"We've been contacted with interest from others wanting to see the brand expanded to other locations – watch this space!"
Acknowledging that this self-funded venture didn't come without sleepless nights, a lot of sweat and elbow grease, Celeste offers some grounded advice to other budding entrepreneurs.
"This may fly in the face of most sensible business advice, but I recommend diving in without thinking everything through to the nth degree. If you're passionate about the idea, and can see a real need and demand for what you're offering, other people will see your vision too. I'm not saying it will be easy, but wouldn't you rather try than spend a life thinking 'what if?'"