Social networking software developer GaggleHouse has won an Australian Information Industry Association (AIIA) iAward in the e-Inclusion and e-Community category for its development of 50and, Australia's first social network dedicated to baby boomers.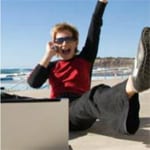 GaggleHouse CEO Liz James said the award was a great motivator for her team, which has spent the past two years building the new platform.
"50and has attracted well over 3,000 people since it launched six weeks ago, so we are immensely pleased with this further validation of our technology and approach to market," James said.
One quarter of the Australian population — just over 5 million people — were born in the baby boomer age group, between 1946 and 1964. They hold half the national wealth and are starting to retire.
"Contrary to conventional wisdom, they adopt technology with enthusiasm and have shown a willingness to try new brands and products," James says.
GaggleHouse was assisted in its development by Melbourne firm ThoughtWorks.
GaggleHouse CEO Liz James envisages a time where social networks splinter off into niche communities rather than aggregate on mega-social-networks like Facebook and Twitter, GaggleHouse sees their 50and social network as targeting the niche before people look towards rival social network 'It's My Time' which targets retirees.
.
"It makes sense that social networking, like the online dating industry, will start to splinter into smaller niche networks where everyone has something in common drawing them together. At GaggleHouse we are positioning ourselves to service many niche social networks, internationally."
GaggleHouse believes in a wholistic approach to connecting people in online communities.
"Not everyone is searching for love, some are seeking friends and others are looking to  connect with a community to meet like minded people and access relevant information," James says. "Unlike any other service, we deliver this all within the one platform."