Women are the losers in the 2010 Federal election, with a 'sharp drop' in the number of women elected to the House of Representatives according to Claire Braund, Executive Director Women on Boards.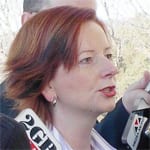 The number of women in the House of Representatives looks destined to dip below 25 percent if predictions hold about the election outcome. Claire Braund, Executive Director Women on Boards, said just 36 women (24 percent) are likely to sit in the House of Representatives compared with 41 women (28 percent) in the last Parliament.
"This is a disappointing outcome that will have consequences for Government policies across all portfolios."
"Until the Government looks like the society it seeks to govern there will be an imbalance in the decision making process."
Key reasons for this fall in women in parliament are that almost half (nine) of the 20 sitting members who did not seek re-election were women, combined with the Liberal National Party of Queensland having just two female members out of 21 (or less than 10 percent) and claiming a number of seats from Labor in this election.
"It was somewhat dispiriting to watch television on Saturday night and keep seeing seat after seat in Queensland where the winning LHP candidate was male."
"At 9.5 per cent women, the LNP is on par with the boards of ASX200 companies in the numbers of women in decision making roles."
"The two bright lights were Jane Prentice in Ryan and Women on Boards member, Therese Gambaro in Brisbane – whose seat is still not certain."
Claire Braund sees it as vital that both political parties and boards work to overcome this gender gap.
"In most cases people tend to vote for parties, not individuals, so it is important that parties exercise responsible leadership and actively encourage and support women to stand for pre-selection…and then ensure they select them in safe seats."