Thirty-eight percent of employees have been less productive than normal in the lead-up to the Christmas break, 35% say they have been just as productive and 27% have been more productive, according to new research.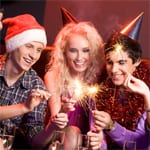 For those taking it easier, on average 14 percent of their paid work time has been unproductive, through activities such as socialising around the workplace, office parties/morning or afternoon teas, end of year socialising with suppliers/clients and leaving work early.
Eighty-eight percent said that working this level of hours in the lead-up to the holidays was normal for their organisations while 83 percent said it was normal for their industry.
The research was conducted as part of Leadership Management Australasia's (LMA) ongoing major workplace study, the Leadership Employment and Development (L.E.A.D.) Survey conducted by Chase Research over the last four days involving over 700 respondents in Australia and New Zealand across 17 industry sectors.
The majority of respondents were from junior to senior management positions — Executive/Managerial (27%) and Middle Managerial/Supervisory (51%), and the balance from other employees (22%).
Managing Director of LMA, Grant Sexton said: "No-one would begrudge the average worker the chance to take the foot off the organisational pedal in the lead-up to Christmas.  However, it's clear that by doing so there's the potential of substantially reducing the productivity of many organisations, often at a time when they can least afford anything but a 100% effort from their people."
There is a strong relationship between feelings about personal productivity and hours worked.  Those who feel less productive in the lead-up to Christmas are in fact working on average 2-3 hours less than normal, while those who feel more productive are in fact working on average 3-4 hours more than normal.
However, those feeling less productive are actually being paid for a higher percentage of the hours they are working (85% versus 83% normally), and those feeling more productive are being paid for a lower percentage of their work hours (80% versus 83% normally).
Added to this, those who feel less productive claim to be spending around 19% of their hours worked in unproductive activities, which is more than double the percentage of those feeling more productive at this time of year (8%).
Mr Sexton said that clearly there is a triple impact on productivity at play here – workers who feel less productive are working fewer hours, being paid for a higher percentage of those hours and working a much higher percentage of unproductive hours.
"For bottom line performance, there is quite a serious side to the silly season," Mr Sexton said.