As a virtual CFO I've seen quite a few businesses undervalue the importance their team plays in having input in the strategic growth and direction of a business.  Employees strive for more than just a pay check at the end of the month.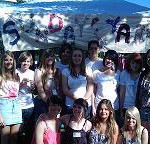 Businesses that don't engage their team are usually the ones that suffer from high staff turnover, low productivity and a lack of staff morale, making it more difficult for that business to operate effectively and profitably.
There continues to be a great deal of uncertainty in the marketplace.  Australia currently has an unformed government that looks like it will be hindered by a lack of leadership and inconsistent policies.  The outlook for the US continues to show poor economic conditions and a two-speed economy in Australia is leaving small business lagging behind their bigger counterparts.
Now is a critical time to ensure your team is invested in your business. It will mean that your business will be more stable, focused on performance and be better positioned to deal with uncertainty and potential soft market conditions.
Recently my company, Azure Group, held its annual strategy day. It's a day that involves the whole team, where we go over the business, its plans for the future and the strategies that will get us there.
Every staff member is involved, regardless of role or how long they've been with the company. Everyone's viewpoint and ideas are considered and encouraged. It's a day that leaves the team feeling supercharged and excited about where the company is heading and their part in getting it there.
The strategy day is important for Azure Group for two reasons: 1) to help build on our plan for growth and 2) to engage our team to contribute and be part of the growth and in turn see them personally reap the rewards from the success that follows.
This in itself is a strategy. I am extremely passionate about ensuring my team take ownership of what part they play in the growth and success of Azure Group and empowering them to achieve this by reaching their own individual goals.
An organisation is its people and the success and failure of the organisation is mostly representative of the commitment from its team. The stronger the commitment, the more likely the company will succeed.
Engaging and motivating your team is a strategy equally important as marketing, client relations and product development. It's a piece of the whole which if left out will leave the business handicapped and having to work that much harder to achieve successful outcomes.
Additional ways to get your team to buy into the business is offering good incentives that will motivate and reward your employees. Individuals are motivated by various forms of incentives and their loyalty to an organisation is built from monetary appreciation and also from a business allowing them to personally develop and accomplish their goals.
There are many avenues a business can take to incentivise staff including employee share schemes, bonuses, equity arrangements or commission, but it is the non-monetary benefits such as the involvement of staff in strategy and growth plans of the business that also play a major role in engaging them in the long term success of the business.
Let's face it; we spend more than half our life working.  As a business owner we have a responsibility to help our team achieve greatness whatever form this takes.  The joy of empowering people to succeed professionally and personally is one that will never stop exciting me and I know it pushes me to be a better leader.