Is business technology getting you down? Are you spending too much time focused on your internet and telephone needs and not enough time running your business?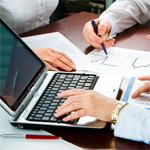 Are you unsure about what you need and what you don't? Confused about the prospect of having to upgrade? These are common issues faced by small businesses, which quite rightly don't want, or need, to be experts when it comes to technology.
SMEs are in a unique market that often gets overlooked by service providers. They often fall between the residential market and the larger, more profitable corporates which are key targets for many players. SMEs typically want more than a simple internet and phone connection, but don't necessarily need every new piece of technology. Reliability and high levels of locally-based support and advice are also critical.
While there are countless solutions out there, the real problem for small businesses is cutting through the jargon and understanding the practical applications of new technology for their business. Do you know what Naked DSL, SIP trunking or co-location are or how they might help your business? Probably not, but all three could probably help you at one time or another; the trick is knowing when.
You need the tools to make informed decisions and practical advice on where and when technology can help a business grow. Your technology needs generally evolve as the business grows and often depend on the number of staff you employ. With this in mind, the best way to approach technology is to consider staff numbers and what stage of the business growth cycle you are in.
Small business: 1-to-8 staff (Needy Practicals)
You could be a sole trader, own a retail outlet or be in the early stages of expanding your business empire. While you want technology to help your business grow, you don't need all the bells and whistles.
When you're this size, you are probably unsure exactly what you need in terms of office equipment and technology. You'll certainly need the basics: a few computers, a reliable phone or two, a broadband connection and the peace of mind of having support at the other end of the phone if things go wrong.
But as you grow, your needs will change, so making the right decisions early is vital. Costs can quickly spiral out of control and poorly thought-out technology decisions can be a long-term legacy.
Small businesses that are starting out are often unsure about exactly what they want, so simple solutions that bundle phone, internet and email are often a starting point. However, while price is important, reliability and service are critical.
Key technology considerations for very small businesses or start-ups should include:
Bundling your telephone and data (internet) to cut costs;
Looking at alternatives to the fixed telephone line. Running your telephone via your internet connection costs a fraction of a traditional phone line; and
Hosted email solutions. These allow you and your staff to have personalised emails (john@yourcompany.com.au) without you going to the expense of purchasing an email server.
[Next: Medium businesses 8-25 employees]
Medium (small) businesses: 8-to-25 employees (Streamliners)
You've grown up and have taken on a few more staff. You might be running a small law or accounting firm with less than 25 staff. At this stage, technology solutions should be all about streamlining your processes and making your business more efficient.
Your staff are probably using technology in the operation of your business every hour of every day, so your phone and internet costs will be starting to bite. You are probably keen to cut your overheads to give you greater control over your expenses. Service is becoming even more critical to your business and you are looking for tailored solutions.
There are many products out in the market, and it can be very difficult to make the right choices at this critical stage of a business' growth. For instance, there are hundreds of broadband plans and add-ons in the market, making it difficult to know what is right for you. Finding the best solution for your business requires a plain English understanding of what is available.
Fibre connections are the Rolls Royce solution (and the technology that is underpinning the National Broadband Network) but at up to $1,000 a month and with only limited availability until the NBN is deployed, out of the question for most. There are other high-speed technologies including SH-DSL and Ethernet over copper but again the costs can be very high.
For most small businesses, existing ADSL2+ technology (which utilises copper telephone lines) can provide fast enough data speeds depending on how close your business is located to the telephone exchange; speeds are slower the further away you are. Businesses a long way from the exchange, or with line quality issues, might want to consider bonded DSL, a service which turbo charges your connection speed by joining together two standard ADSL connections.
Other key technology considerations for medium small business include:
Hardware. Are your systems getting outdated and do they all talk to each other? Many businesses of this size have grown organically with little thought for the connectivity of systems, so it's worth considering updating to make things more streamlined;
Connection speeds. As you grow, your internet connection might start to struggle under the pressure and productivity will suffer;
Security. How safe is your data and do you have a backup system? You probably have staff sharing files from a central location but who or what is making sure this data is regularly backed up and stored offsite?
[Next: Large (small) businesses 25-50 employees]
Large (small) businesses: 25-to-50 staff (Solution Hunters)
You've grown from humble beginnings and have staff in a number of offices, either in one city or spread across the country. With up to 50 staff to manage, technology needs to make you more efficient, be reliable and ensure everything is secure. You are big enough that off-the-shelf solutions really aren't what you need so it's probably worth investing the time to have someone sit down and understand your business plan and requirements.
Depending on what your business does, you will probably require remote access or multi-site connectivity so staff at different sites, or working from home, can access files and their email. And you need your sites to be secured and backed up so your business critical data stays safe.
Some key technology considerations for larger small business to consider include:
Make sure you are not paying for phone services you don't need. Most businesses only need concurrent call capacity for about a third of their employees and there are technology solutions that allow you to stop paying line rental for lines that are hardly ever used.
Consider getting rid of your communications room where servers and other equipment are stored. There are solutions where your data is hosted off-site, in a secure data centre, which means you'll never be offline again.
Consider expert advice. When you are this big, technology glitches are the last thing you need. Many technology providers offer on site consultations, or have partnerships with systems integrators who can visit you free of charge and help you put together a solution that's tailored to your business.
Whatever stage of the growth cycle your business is at, it's important to remember technology is there to help it grow. So before you make your next technology purchase, ask questions, do your research and try to find a partner who offers you easy to understand plain English solutions and advice before hitting you with the hard sell.
–Steve Harley is general manager, business, at iiNet.