Virgin Blue has accused Qantas of hiding behind Australia's competition regulator the ACCC in its submissions to the regulator opposing Virgin Blue's proposed deal with Etihad.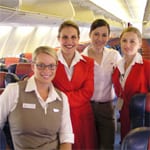 Virgin Blue's deal with Etihad would see Virgin Blue's international brand, V Australia launch direct services to Abu Dhabi in 2011, but through Etihad's network in the middle east will offer Virgin Blue's customers a network of more than 100 destinations as early as October 1st this year. Etihad and V Australia will fly 27 weekly services between Abu Dhabi and Australia once the partnership ramps up to full capacity.
The Australian reports that Virgin Blue's submission to the ACCC was heavily critical of Qantas' selfish submission that attempts to railroad the ACCC's interim approval of Virgin Blue's deal with Etihad.
"If Qantas's position was to be adopted, it would simply have the self-serving result of delaying a pro-competitive initiative in which Virgin Blue, through V Australia, and Etihad Airways will provide increased competition to Qantas. Delaying the alliance would be to the detriment of passengers." Virgin Blue's submission read according to The Australian.
Virgin Blue alleges that Qantas shares a similar agreement with British Airways into the European market and that the Virgin Blue's deal with Etihad is different only in its destination.
Virgin Blue has had two similar deals rejected this year, one with US airline Delta which was rejected by the US Department of Transport last month, and a proposed trans-Tasman deal with Air New Zealand was denied authorisation by the ACCC in a draft decision handed down two weeks ago.
"The ACCC considers that the alliance is likely to reduce competition in the market for trans-Tasman air passenger services," ACCC chairman Graeme Samuel said.
"The ACCC believes that Virgin Blue is a significant competitor to Air New Zealand and there are a number of trans-Tasman routes where the alliance raises competition concerns. These routes account for around one quarter of passenger traffic in the trans-Tasman market. This means that more than one million passengers per year may be adversely affected by the removal of competition between Virgin Blue and Air New Zealand."