Telstra has brought its mobile phone warranty policy (with the exception of Apple's iPhone 3GS and iPhone 3) in to line with its 24 month service contract lengths after discussions with the Australian Competition and Consumer Commission.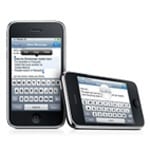 Apple's iPhone 3GS and iPhone 4 remain outside the extended 24 month warranty period due to contractual arrangements between Apple and Telstra unfortunately. Telstra already offers 24 month warranties for handsets manufactured by BlackBerry, HTC and ZTE, but this new agreement will bring all other handsets warranties into alignment with the service contracts offered by Telstra.
"Telstra has decided to do what's right and fair for consumers, and has been negotiating with manufacturers to bring in warranty periods that last for the length of a consumer's contract," ACCC chairman Graeme Samuel said today.
"This is a good outcome for consumers and Telstra should continue its negotiation process. The primary obligation to provide remedies rests on Telstra and not the mobile phone manufacturers. It is reasonable for consumers to expect that any phone they buy will last for the length of the service contract they enter into. In the EU, most consumer goods sold come with a minimum 24 month warranty."
Businesses are warned to take notice of the consumer protections included within the Trade Practices Act says Mr Samuels.
"It is important for consumers and suppliers to realise that the Trade Practices Act implies certain statutory rights into consumer contracts," Mr Samuel said today.
"Just because the manufacturer's warranty period is up, it does not mean that consumers can be hung out to dry if they are left with a faulty product and ongoing service contract."
Although nearly all major handset manufacturers have agreed to honour full warranties, the ACCC continues to have concerns in relation to warranty issues with the Apple iPhone.