Daisy Dry Cleaning, the only chemical-free and carbon neutral dry cleaner in Australia, has opened its first franchised store in Greater Geelong, Victoria.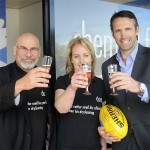 Daisy Dry Cleaning is the world's first and only carbon neutral dry cleaning and laundry business. It is also the only dry cleaner in the world to have achieved a five-leaf (star) standard, the highest environmental credentials possible, making it the greenest dry cleaner in the world.
Daisy now has three stores and more than 25 agencies throughout Melbourne and Geelong.
Established by Paul Littmann in 2004, Daisy uses an advanced wet-cleaning process that doesn't harm clothes or the environment. It uses organic biodegradable detergents and stain removers to ensure clothes are cleaned effectively and are odourless.
"We have developed and are continuing to develop, new cleaning compounds including those based on eucalyptus and citrus," he said.
"These Australian-designed cleaning agents, when combined with Daisy's new high tech, computer-controlled washer/dryer with sophisticated cleaning cycles, deliver professional clean and a safe working environment."
New franchise owner, Mrs Kerry Gauci, had been looking for a number of years to start her own business before she purchased the new eco-friendly Daisy franchise.
"Dry cleaning is a growing industry, more so in a tougher economic climate where people tend to look after their existing clothing rather than buy new suits and other formal attire," Kerry said.
"When I was investigating the dry cleaning business and how it works, I became uncomfortable with the chemical side of the business. It was actually a scary thought that I could be exposing myself and my family to the noxious cleaners used in the traditional dry cleaning process, such as perc. Then I came across Daisy."
To reduce water consumption, Daisy has installed a water recycling system comprising a 600-litre (1.8 cubic metre) tank that filters the biodegradable soap and allows the water to be reused. The new store also offers sterilisation so the cleaning service is suitable for hospitals and other medical, dental, beauty and therapeutic applications.