Hundreds of workers may have been exposed to deadly asbestos fibres at a Kwinana power station, Labor Leader Eric Ripper said today.
"Demolition work at the Kwinana power station has uncovered old pipes coated with asbestos," he said.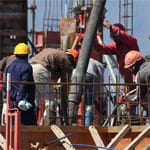 "Workers were sent home yesterday following testing which found positive readings for asbestos at 18 of the 30 test sites."
"It appears the entire plant may be contaminated with asbestos and workers have been sent home indefinitely."
Mr Ripper called for immediate and comprehensive testing of the station to establish the likely level of exposure.
"These workers are now in limbo. They have no idea as to the level of exposure they may have endured and they are understandably fearful and very concerned about their health," he said.
"This is a stark illustration of why the Government must demand that all agencies and departments have asbestos registers and management plans."
"We know that almost a third of all Government agencies failed to submit asbestos registers and management plans for buildings constructed prior to 1990.