Virgin Blue will undertake a complete overhaul of Virgin Blue Holdings' brands (including V Australia) with Hans Hulsbosch the brains behind Qantas' flying Kangaroo logo, hired as creative director for the airline.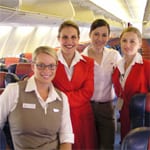 Virgin Blue hopes to consolidate its brand across both domestic and international markets, with the airline considering folding the V Australia and Polynesian Blue sub-brands into the Virgin Blue umbrella brand to simplify marketing and deliver a consistent message to customers.
Hans Hulsbosch is the brains previously behind Qantas' "flying kangaroo" logo, having worked with Clemenger since arriving in Sydney until 1985, at which time he opened his own strategy and design company 'Hulbosch'. More recently Hans is responsible for the major rebranding of Woolworths in Australia, including the new logo which earned Woolworths the attention of Apple who believed it infringed on their iconic Apple logo.
Virgin Blue CEO John Borghetti says it is now time to rebuild the Virgin brand before the airline pursues growth plans. While it is unlikely the Virgin Blue brand will be abandoned, it is possible a number of the sub-brands such as V-Australia and Polynesian Blue will be scrapped in the comprehensive review by Mr Holbosch according to Mr Boghetti.