Telstra's iPad prepaid data plans are out, but highlight how much the company is prepared to rip off their non-iPad prepaid wireless broadband customers. With iPad prepaid plan prices half what their wireless broadband customers pay.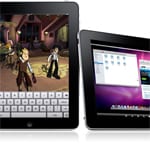 Telstra was unable to negotiate a distribution deal with Apple that let it sell the device in the same way Telstra sells the iPhone under 24 month contracts and has instead opted to sell a range of prepaid mobile broadband plans only for the Apple iPad 3G. These plans start at $20 for 1GB of data per recharge, which is half the $40 Telstra's wireless broadband customers pay for the same amount of data.
"Telstra's pricing for iPad 3G gives customers control and flexibility to access the Internet on-the-go while connected to the Telstra Next GTM network," said Ross Fielding, executive director, Telstra Mobility Products.
"Telstra is providing Australians the ability to enjoy 3G on iPad in more places than on any other network."
Telstra range of prepaid Apple iPad 3G plans show significant favoritism on what is essentially an identical service to the end user.
All of Telstra's prepaid iPad plans expire after 30 days, with pricing as below.
$20 1GB
$30 3GB
$60 6GB
$80 9GB
$100 12GB
Telstra's Prepaid Mobile Broadband plans however are considerably more expensive for the same data allowance:
$20 225MB
$30 400MB
$40 1GB
$50 2GB
$60 3GB
$80 4GB
$100 6GB
Optus, offers even more value to its iPad prepaid data plans to customers than Telstra, but is still comparatively aggressive when charging its own wireless broadband customers. With Optus charging iPad customers $30 for 2GB of data, but wireless broadband customers only get 200MB from a $10 recharge.
Telstra's prepaid sim for Apple iPad will be on sale from most Telstra Stores and selected partners from May 28th.