Telstra iPad plans have been sweetened, with Telstra offering users the option to roll over unused data if they recharge before their prepaid iPad plan's 30 days expires.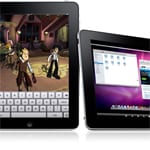 Telstra opted to sell a range of pre-paid mobile broadband plans designed for the Apple iPad 3G, with Pre-Paid SIM for Apple iPad Kits available from Telstra for $30 which included 1GB of data, and recharges ranging from $20 for 1GB of data through to $100 for 12GB of data. Being the first mover in the market meant that Optus was able to steal Telstra's thunder with their iPad plans, offering more aggressive pricing at the low end, offering 2GB with a $20 recharge, double that offered by Telstra.
Telstra has hit back at Optus, APC has confirmed with Telstra's public affairs spokesman Peter Symons that the telco will allow users to roll over unused data (except for the initial starter kit's data) if the SIM is recharged before the 30 day expiry of their last recharge.
There is a caveat however, Telstra regards the remaining quota left in your prepaid iPad account in dollar terms, not data remaining, so when you recharge, the rolled over data will be billed at the rollover data rate (1c/mb on the $30+ plans, or 2c/MB on the $20 plan).
This will result in users either getting more or less data from the rollover than they actually have left when jumping between these data tiers, if you have half of your $20 recharge left ($10/500MB) and you buy a $30 recharge, you will get a 1GB rollover not a 500MB rollover. But if you go the other way, if you have half a $30 recharge left ($15, or 1.5GB) and buy a $20 recharge you only rollover 750MB into the next month.
This looks to be an unfortunate side effect of Telstra's billing system, but sweetens the deal and keeps Telstra price competitive with Optus who also allow data to roll over on their iPad plans.
"Telstra's pricing for iPad 3G gives customers control and flexibility to access the Internet on-the-go while connected to the Telstra Next GTM network," said Ross Fielding, executive director, Telstra Mobility Products.
"Telstra is providing Australians the ability to enjoy 3G on iPad in more places than on any other network."