Telstra's Bigpond Ultimate USB modem is promoted to small business customers as the absolute fastest mobile internet speeds available in Australia, we secured one from Telstra and ran it through its paces as a small business mobile internet workhorse.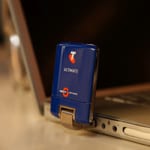 Telstra's Bigpond Ultimate USB modem has been trialled by selected businesses since August and is advertised as providing download speeds ranging from 1.1Mbps to 20Mbps in all capital CBDs and in 100 regional centres, putting it on par with fixed line internet speeds in most cases.
Setting up the Bigpond Ultimate USB modem is easy, simply flicking the USB dongle to a right angle and sliding it into an available port on your laptop will have your machine detecting it and automatically running in no time at all.
If you're running a Windows 7 machine – at least on our test unit – you will have to manually navigate to the modem (like you would with a USB flash drive) and run the setup file, the setup process itself for the Ultimate USB is painless.
So what about the performance?
Telstra aims the Bigpond Ultimate USB modem at SMB customers with a range of plans tailored to businesses that need access to fixed line ADSL2+ quality download speeds when they are out of the office. If that describes your business, then Telstra's offering is just the ticket. The caveat here is that like all wireless devices, despite offering a high top-end speed, the Ultimate suffers from a higher latency than a fixed line connection, which will mean that loading websites may see visible pauses while the connection is established.
With our Telstra Bigpond Ultimate USB review unit, we were able to pull down speeds of 3Mb/sec, or 3,000 kb/sec, which is actually faster than most residential ADSL2+ connections. This was a one-off high however, with speeds varying over the testing period.
When compared to the other wireless internet networks available, Telstra's NextG mobile network is without peer, but this has been known for a long time. The 3G network that you see advertised on the sides of buses and billboards is actually all that it's cracked up to be in terms of speed and reliability.
[Next: Telstra Ultimate USB modem performance tests]
Where are the results?
Telstra's Ultimate USB performed well in the various Sydney-based locations where the unit was tested.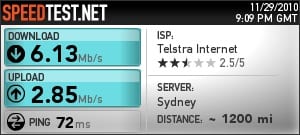 This translates to a maximum download speed of 600kb/sec or 0.6mb/sec. You will note that speedtests are done in megabits not megabytes, which is where confusion often lies. When a slick salesman tells you that your connection is 20 megabit, they actually mean a download speed of approximately 2 megabytes/second.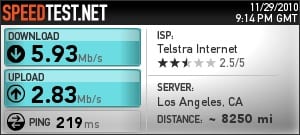 The results of a test to a Los Angeles server in the US are similar to the Australian speeds, which is quite impressive and reflective of Telstra's overseas links. This is of course only done with the web-based speedtest.net, and is only as reliable as a web-based test can be.
You will note that we referred to a download speed hitting 3mb/sec – this is actually quite rare and the speed will vary quite dramatically even in the one location. This is quite a common occurrence with wireless internet as you are sharing the mobile tower with other users who may be negatively impacting performance.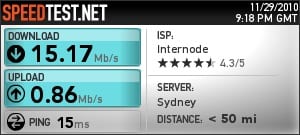 For comparison we have included a typical high speed residential ADSL2+ connection from a big-name ISP to the same Sydney server that the Telstra Bigpond Ultimate USB modem was pointed at. Here you can see that the download speed is much higher, while the upload speed is much slower. Showing that wireless internet is not yet a complete replacement for a fixed-line ADSL2+ connection, but is a great option for internet away from your place of business.
The verdict
Telstra's Next G mobile network is the best in Australia. That said, you will pay a premium to use it, but for mobile internet the company's Bigpond Ultimate USB Modem is one of the best options out there in terms of speed and reliability – just remember it is an accompaniment to a business fixed-line internet account, not a replacement unless you only need occasional internet access or are permanently on the road.
Telstra's Ultimate USB device will cost business customers $299 if bought outright, or is $0 upfront on a $69 mobile broadband plan over 24 months.