A new country of origin food labelling system is set to be in place by mid-2016 with a phased implementation period for small business.
Under the new system, the Australian Government has sought to clarify country of origin labels, currently considered confusing for consumers. Under the new system, food offered for retail in Australia will carry an indication of the proportion of Australian ingredients using a statement and bar graph.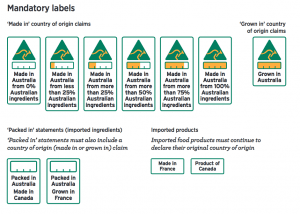 The Australian Made Campaign Chief Executive, Ian Harrison said in a statement "we welcome the Government's initiative to help consumers quickly and easily identify great Aussie products.
"The new system will help consumers make informed choices based on the 'Australianness' of products," Mr Harrison said.
Mr Harrison commented on the results of an independent Roy Morgan Research survey confirming the enormous levels of recognition and trust in the Australian Made, Australian Grown logo.
"A greater number of growers and manufacturers using the logo will further strengthen its impact for the benefit of both consumers and producers," Mr Harrison said.
The new labelling system will be mandatory for most food products and a phased implementation period will be introduced for small business next year.