Retail trade in Australia has improved, but only by 0.2 percent in June, repeating the 0.2 percent growth in retail sales recorded by the ABS in May this year.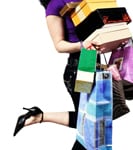 Australian Bureau of Statistics retail trade figures for June paint a disjointed figure around Australia, with Victoria, the Australian Capital Territory and New South Wales retail sales by 0.6, 0.5 and 0.4 percent respectively during the months of June, while South Australia and Tasmania both recorded contractions, of 1.0 and 0.9 percent respectively. The remaining states all fell within the 0.2 to 0 percent growth range.
The Australian Retailers Association said ABS June Retail Trade growth of a 'dismal' 0.2 percent growth for the second consecutive month reflected anecdotal evidence from retailers nationwide of poor retail sales growth.
Australian Retailers Association Executive Director Russell Zimmerman believes the 0.8 percent sales growth seen during the the June quarter this year painted a bleak picture for retailers.
"When July results are posted next month we'll see how retailers fared during the first month of wage bill increases under the new retail award but we're already getting emails every day from retailers across the country saying this is one of the worst years of trade they can remember. If business doesn't start to improve, small retailers who are already struggling to hold onto staff will have to start making employment cuts."  Zimmerman said.
Retailers are comparing the June Retail Trade figures with this time last year and seeing at best, modest growth from an already lackluster GFC affected June 2009 quarter in retail trade.
"Retail sales across all states and categories have increased only 1.9 percent from June 2009 to June 2010.  This is not real growth, it's well below healthy levels for the sector and it's a very real signal for the RBA to hold interest rates until retailers begin to post some significant and consistent growth." Zimmerman said.