iPad buyers are being cautioned to expect surprises with their iPad plan costs when Apple launches the iPad 3G in Australia on May 28th.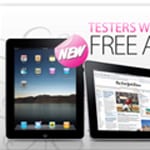 ACCAN is strongly urging iPad buyers to consider pre-paid iPad Plans when Apple releases the iPad 3G in Australia in order to avoid the kind of 'bill shock' seen by some when first buying 3G smartphones in Australia, such as South Australian MP Russell Wortley's son who racked up a $10,000 bill one month using his father's Government provided smartphone.
The Australian Communication Consumer Action Network (ACCAN) is the peak body representing consumers on communications issues including telecommunications, broadband and emerging new services.
Telstra and Optus are both offering pre-paid iPad plans starting at $20, which ACCAN strongly supports, however Optus offer a range of post-paid iPad plans starting at $20/month, but will charge users $0.06 per MB that users go over their monthly quota. With concerns over the unknown amount of data iPad owners will use on the new device, ACCAN warns users against locking into contracts with excess data charges.
"The iPad and similar new-generation devices offer exciting new possibilities for consumers," said ACCAN Director Policy & Campaigns Elissa Freeman.
"But to avoid getting an 'iShock', we're strongly advising consumers opt for a pre-paid plan for at least the first three months until they get a feel for how much data they're using."
"Anyone using a 3G iPad on a post-paid plan essentially has access to a loaded gun of credit. While you're absorbed in checking out what your iPad can do, you're in danger of going over your data usage limit and facing a huge bill."