iiNet's ADSL plans will soon offer a 'meaty' 1000GB or "1 terabyte" of monthly data quota in what is being billed as an industry first for Australian ISP's.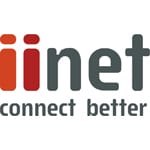 iiNet, who announced a record profit Monday as well as a 27 percent increase in subscriber numbers to its ADSL broadband service, launched the iiNet "one thousand gigabyte" plan to both business and home customers today.
iiNet's Chief Executive Officer Michael Malone launched the plans today in an effort to firm the companies position as the clear leader in the ADSL subscriber market.
"iiNet is moving Australian broadband forward," said Mr Malone, borrowing on the oft used election campaign phrase of Prime Minister Julia Gillard.
"We've built a high performance network over the past five years, including great long term deals with our suppliers. We have oodles of bandwidth and it's about time we used it.
Mr Malone said iiNet's ADSL plans with increased quota were in response to Australians' increasing appetite for fast broadband and online content, including live and catch‐up television, music, online gaming and much more. He said average usage has been increasing 20‐30 percent per year and these plans recognise that growth and customer needs.
iiNet's new ADSL plans will be offered to both home and business customers from the 20th of August. Existing Naked DSL customers will automatically receive the higher quota at no extra cost. Other iiNet customers will continue on their existing plans unless they choose to change. Business users should note however, that iiNet's new plans will also count uploads as well as downloads in the 'Monthly quota' which is a change from iiNet's existing broadband plans which do not (with the exception of Naked DSL plans) so if your business does a lot of uploads that are currently not counted, remaining on your current iiNet plan (or another ISP) may be the best bet.
In addition, businesses should note that iiNet's new plans operate with both peak and offpeak data periods, with the 1000GB plans allocating 500GB to peak hours (9am to 1am) and 500GB to offpeak periods (1am-9am), obviously if your business is only using the internet during work hours, this effectively halves the value of the plans offered by iiNet today.
Full details of iiNet's ADSL plans launching August 20th can be found in the iiNet media release.