Perth based ISP iiNet is expecting full-year earnings to be at the higher end of its guidance range, it has revealed at the Macquarie Securities 2010 Australian Equity Conference.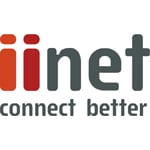 iiNet's presentation to the Macquarie Securities 2010 Australian Equity Conference showed how the company's acquisition of rival Netspace, which has a strong presence in Victoria and Tasmania. The acquisition of Netspace has increased iiNet's market share to 12.4 percent, with a company making progress on its long term goal of 15 percent.
iiNet's FY10 earnings expected to be towards upper end of previous guidance range of $75-80m underlying EBITDA.
The company said it will continue to pursue acquisition opportunities and says it continues to have low gearing.
At 31 March 2010 total services for the company were up 8 percent to 927,000 with 'Naked' ADSL customers up 45 percent to 97,500 from 30 June last year. Just under one third of iiNet's ADSL customers or 305,800 now on iiNet DSLAM's infrastructure, what is called 'On-Net' customers. With churn of customers low at 1 to 1.5 percent.
The company's IP telephone solution 'BoB' has sold 29,500 units sold by end of March 2010 after its introduction in August last year.
iiNet is in a position to continue making aquisitions of 'Tier 2' ISP's in order to attain its goal of 15 percent marketshare.
"Low gearing places iiNet in a unique position to lead industry consolidation –interested in making sensible acquisitions, and continually engaged in assessing strategic options" the report read.
iiNet is planning the introduction of IPTV products in 2010 to complement their traditional ADSL offering with over 8,000 registrations of interest received since the company announced a partnership with FetchTV to provide FTA and additional content channels free to customers over ADSL. The company believes the deliver of IPTV will drive continued take-up of ADSL2 and Naked broadband connections for the company.