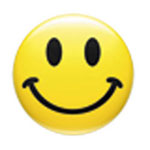 You're happy! This year one of our goals at MYOB has been to get a handle on the "Happiness" of Australia's business owners.   Our thoughts were that happy business owners who are passionate about and love their work, are committed to their business and will push forward through thick and thin.  So we thought we would measure happiness amongst Aussie business owners and see just how many of you are smiling!
Well I have great news! The majority (84%) of Aussie business owners (you!) are happy or very happy with their business.  What else do the results tell us?
Male and female business owners are equally happy with their business (85%).
Victorian business owners were the happiest (87%) followed by South Australia (85%) and New South Wales and Queensland (both at 84%).
There is a difference in the happiness of city and rural based businesses – 87% of city based business owners are happy compared with 79% of rural based business owners.
The happiest industry sector is Transport and Storage (89%) followed by Construction and Trades (87%) and Professional Services and Property (86%).
So what are the things that business owners see as key to their happiness?
88% indicating that 'having happy customers', 'freedom and flexibility of hours and location' and 'being myself, having my own individual style' helps them love their work
86% indicating that 'being own boss, doing it my way' helps them love their work
80% indicating that 'more time at home' helps them love their work
80% indicating that 'higher profits' helps them love their work
These results confirm what I guess we all already knew about Aussie businesses – you're a vibrant business community that's passionate about what you do!
If you feel you fall into the small group that are not so happy –  here are a few ideas I've gathered that might bring a little more joy to your business:
Inject some fun into your day, you'll be surprised with how inspiring and energising it can be.
Relationships are important for being happy, and this applies to being happy in business.  So take the opportunities available to you to connect with team members and your networks.  Those smaller businesses with no or little staff, becoming isolated or feeling alone can be an issue for some, so don't let this affect your happiness – connect with like minded individuals and join communities (online or in person!).
Remind yourself what's really important and focus on that. Avoid distractions.
Focus on your strengths, and it'll impact your success and productivity, and your happiness.
If your business is not travelling along as well as you feel it could, consider speaking with someone about it. Be it your accountant or business advisor – they are there to help.
What are your thoughts?  Are you happy?  Do you love your work?