Half of employers expect they will increase the number of full time staff in the June quarter, but only if you live in Western Australia unfortunately.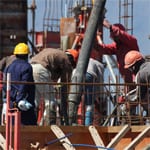 Australian recruitment agency Hudson says employer confidence has soared in the state and is now higher than the rest of the country, which only has one third of employers looking to increase full time staff over the same period.
Hudson's Andrew Tomich believes strong growth in the resources sector is at the heart of the growth in confidence, with major projects such as Gorgon having significant flow on effects, spurring growth in confidence 5.5 percent to its highest level since September 2008.
"Gorgon is one of those things that's really generated a lot of that confidence and so a lot of the supplying industries into that are really benefiting from the whole LNG project."
"This is really on the back of a lot of the resources projects, we're also seeing a lot of construction happening in the city and that's driving confidence levels to that level pre-GFC."Mr Tomich said.
Overall one third of Australian employers plan to increase the number of full time staff levels between April and June 30, 2010 (The June quarter).
The surge in confidence comes after the ANZ job advertisement series showed a 21 percent increase in jobs advertised since January.
Chief executive for Hudson's Australasian operations, Mark Steyn, believed unemployment had hit it's peak and was declining in trend terms.
"The strength of the labour market has exceeded all expectations," Mr Steyn said.
"The 52,000 jobs created in January were three times market forecasts and represented the largest monthly increase since December 2006."
South Australia fared worst, with  only 27.3 percent of employers planning to hire full time staff in the June quarter, still, this is the strongest result for the state since September 2008.
The Australian Chamber of Commerce and Industry's April Survey of Investor Confidence showed similar increases in confidence amongst employers, with the index of Expected Number of Full-Time Employees increased further over the March quarter, rising from 51.5 in the December quarter to 52.4, around one point above its five year average of 51.1. This reading suggests hours worked and hiring intentions are expected to improve over the next six months.