Domino's Pizza iPhone app and website "digital touchpoints" now account for 28 percent of sales for the company, with an iPad app believed to be on the way.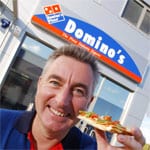 Domino's iPhone Application generated more than $2 million in sales within the first 3 months and has been downloaded over 300,000 times since its launch.
Although, people have been using 'phones' to order pizzas for many years, statistics show the potential for iPhones and smartphones as business tools is growing at an increasing rate. The Australian Communications and Media Authority (ACMA) 2008‐2009 Key Indicators Report indicates that Australian's do 86% of all shopping and banking online and view approximately 3099 web pages per person per year.
Michael Gillespie, Domino's Online Marketing Manager was critical of companies who were just adding an online element to existing services, rather than tailoring a solution for your online customers.
"making existing services online is not enough to succeed in the digital space," he said. "You need to understand your customer and your existing touchpoints before you go online."
Gillespie says "with our iPhone Application, we strategically evaluated how our customers connect with us and how we can improve that connection, which formed the blueprint for the Application."