The majority of Australians reject the Government's projected population growth figures, with 69 percent of Australians opposed to the idea of a population of 36 million by 2050.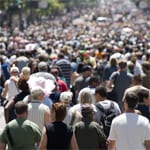 The projected 36 million figure comes from the Government's intergenerational report and has been examined in a new survey by the Lowy Institute.
"The poll shows Australians are comfortable with some increase in population size but are not in full support of the 36 million projected in the government's intergenerational report," Lowy Institute executive director Michael Wesley said in a statement.
In response to concerns over Australia's bulging population, the Federal opposition flagged a cut to Australia's overall immigration intake.
However this suggestion has been heavily criticised by business groups, arguing that restricting immigrant numbers would lead to higher taxes as Australia's baby boomers moved to retirement age and placed an increasing burden on government funded services.
Opposition immigration spokesman Scott Morrison cited the findings as evidence people supported the coalition's stance on immigration.
"The coalition believes in having a sustainable growth path for our population and this survey shows that many Australians support that view," Mr Morrison told ABC Radio.
"But they are not prepared to sign up to the level of growth Kevin Rudd is championing."
22 percent of survey respondents indicated that they believed Austalia's current population to be "the best target population" for 2050. While 43 percent felt a modest increase to 30 million by 2050 was optimal.
"Thirty million doesn't seem to be that much different from our current 22 million; it seems like a natural progression," Michael Wesley said.
23 percent of respondents cited 40 million as acceptable, with the remaining six percent happy for the the population to more than double to 50 million by 2050.
"I think most people see 36 million as really quite a substantial increase." Michael Wesley said.
"Some of the concerns about overcrowding, about house prices, about the environmental strain that 36 million Australians would cause, are also starting to bite."
The Lowy Institute's survey, was conducted in early March and included 1000 Australians.