For many, if not most Aussie businesses, the global financial crisis followed by a broad and deep international recession plunged owners and managers into uncharted territory. Existing on a steady diet of growth and demand for years, and with few true tests of management and financial acumen, my view is that a fair few businesses were unprepared for the impacts of a new economic reality.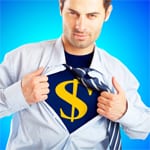 In essence what the GFC exposed is that, faced with a new set of market scenarios, many businesses saw a real need for sound, independent financial advice. And for most, the first port of call for help was to an accountant.
According to the MYOB Business Monitor, 66% of business owners turn to their accountant when looking for general business advice (32% turn to the Government and 27% ask their mates).   While traditionally the port of call for tax and compliance advice, the modern accountant is now regarded as the best and most trusted source of business advice.  And it makes sense – who else has such an intimate view of your business' performance?  Someone who is usually based in your community, knows the local economy and networks for a living with hundreds of business just like yours?
That advisory role is one the accounting profession has been developing for some time, but for many of us in business, we're really only scratching at the surface in terms of the value an accountant can provide.  Tax and compliance advice are a given – great accountants provide a much more holistic service focusing on your business outcomes and the levers you can pull to enhance your business.
Why not test the business super-powers of your accountant this coming tax season?  Cut short your chat about the weather and your tax payments, and trying asking these 2 questions:
How do you think my business is performing compared to your other clients?
Based on what you know about my business, what's the one thing you think I should do differently or focus on?
You might be surprised at the insights and value a 20 minute chat can add.
And to all the accountants out there – this is your opportunity to provide real leadership in guiding Aussie businesses back to growth and prosperity.  And a chance to build an enduring relationship with a new generation of Aussie businesspeople, for whom the experience of the GFC has changed the way they approach business – hopefully for the better.
So what do you think – are accountants, the new secret business superheroes?  What makes a great accountant in your view?  Do you have advice or suggestions on how to find and "audition" a fantastic accountant?