Australian women universally agree they are making financial sacrifices when choosing to enter motherhood, with almost half of women agreeing it isn't worth it.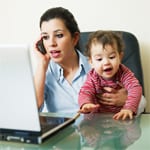 91 percent of Australian women acknowledge that taking themselves out of the workplace to have children has an effect on their financial position and constitutes a financial sacrifice to them, according to a new poll conducted by the Heat Group.
Whilst almost half of the women polled agreed the financial sacrifice of motherhood was not worth it, Gillian Franklin, Managing Director of the Heat Group asked why women were still being forced to bear the brunt, particularly when the costof motherhood not only affected the individual but the whole economy.
"With a staggering 62% of women stating motherhood had a long-term effect on their financials and 12% of women simply opting not to have children at all because of the financial concerns, surely we should be exploring options that lessen the impact on our economy. One option is tax-deductible childcare to give women the incentive to return to work and be an active participant in the economy."
The poll also found that 92% of women compensated their reduced earning ability with a drop in spending, substituting with cheaper brands and saving less. Only 4% of women believed that their partner's income could cover any loss of their wage incurred by motherhood.
"This Mother's Day I encourage Australians to consider how we can better support mothers, including the provision of paid maternity leave being considered an investment in business' performance not a cost."
"There can be no argument that businesses benefit from staff longevity, retention of intellectual property and a team that is proud and motivated. These are some of the many benefits of supporting women as they grapple with the challenges of raising children," said Gillian Franklin, Managing Director of the Heat Group.