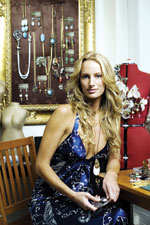 What started in Bondi markets just six years ago is now on the brink of becoming a huge international brand. Jewellery designer, former model and business brain Samantha Wills, spoke exclusively about her move to LA with editor Jen Bishop.
Samantha Wills is the name, face and creative force behind what is fast becoming the celebrity jewellery brand of choice, and already a firm favourite among Aussie women. Just six years ago, she was selling her creations as a hobby at Bondi Markets. Now she's about to break America with her collections, which are being worn by the likes of Beyonce, Pink and Nicole Richie. Make no mistake: this is one small business going places. And fast.
The former Billabong model—still just 27—obviously has beauty on her side. This has led to her modelling the collections herself. She quite literally lives and breathes the Samantha Wills brand. But young, gorgeous and successful as she is, she hasn't got here by accident. Much more than just a pretty face, Samantha's a hard worker, who says she hasn't really had time to stop and take in how much has happened already.
She has just made the life-changing decision to split her time between Sydney's Eastern Suburbs and a new home in LA's Santa Monica. US chain Nordstrom has snapped up the brand, using her face in promotional material across its stores. It's now in 100 stores across the country and not a day goes by without a new high-profile American fan of the label coming to light, with cast members of Gossip Girl and 90210 wearing pieces on the hit shows. So, how did this all happen?
From Port Macquarie to David Jones
Growing up in the costal town of Port Macquarie, Samantha has always been creative. She was in the top 10 percent in the country for visual arts in her HSC.
She had a successful career as a model for Billabong after leaving school but, at 21, decided to start her own accessories company, Samantha Wills Pty Ltd. She sold her handmade jewellery on the weekends at Bondi Markets. In 2004, a friend offered her a spot on a showroom wall at Australian Fashion Week. Hoping for no more than to sell a couple of pieces and get some publicity, she couldn't have been more surprised when she took $17,000 of orders. And that's where it all really began.
It's been once success after another since then and it's hard to believe all this happens out of modest offices on the outskirts of Sydney with just seven in-house staff. Samantha Wills accessories are now sold in David Jones and Seduce stores Australia-wide and selected boutiques the world over. They're often seen gracing the pages of style bibles like Vogue.
Breaking America
The expansion into the United States has happened just as quickly too. "In March last year I went over with my sales director, just to see what the market was like," Samantha says. "I didn't have any intention of signing up an agent or anything like that. We went to the Cooper Street Building, which is just full of agents and fashion showrooms. We met an agent there who had so much enthusiasm for the product we were wearing. We thought what's the worst that can happen?"
They signed with the agent and in the first month, Samantha Wills was snapped up by 100 stores, something which certainly hadn't been factored into stock levels! But it's the old adage of small businesses being more flexible and adaptable than corporates, and they've coped with demand. When we spoke, Samantha had just taken on two new full-time members of in-house staff and was surrounded by boxes of jewellery, about to be dispatched.
What recession?
At a time when everyone's talking about a downturn, this SME continues to grow. "We're able to grow the business alongside our success," Samantha says. "A lot of other brands are shutting their doors and laying off staff. We keep wondering when the downturn's going to hit us too, but it doesn't. I see the recession as a time to sort out those who are staying in business, from those who are just playing at it.
"When people have less money, accessories are something they can update their whole look with. We're careful to keep a foot in the entry market level with some pieces from $55, while most of our pieces are in the $250 to $400 range. We don't want to price ourselves out of the market or sell ourselves too cheaply. We also have to remember that accessories are a luxury, not a necessity."
While the brand has a very glamorous feel, behind the scenes is a lot of less than glam hard work. "The brand is perceived to be a certain way and I think some people imagine we're in a big gold palace or something! It's testament to how hard our staff work to be able to meet the demand we have when we're still quite small in numbers."
Making the move
Interest in the brand in the US is now getting so overwhelming that Samantha has made the difficult decision to move there. "I'm going to go over every eight weeks now, with a view to moving there full-time in January," she says. "I'm trying to think of it as living between two places rather than leaving Sydney, because it's less sad! But I need to be there on the ground to manage the growth of the company. Over there we are still just a product and not an established brand like we are here.
"The main thing about breaking America is that it takes us to a whole new level from a branding point of view. Our agent out there has worked on Valentino and Calvin Klein and has a great network of contacts, so it's very exciting. This could really see us become a truly international brand."
Reflecting on success and a new partner
As fast growth small business stories go, this one has it all and Samantha admits she sometimes has to pinch herself. Patting herself and her team on the back is something on the agenda for this year; it's just a question of finding the time. "It's been so incredibly busy I haven't had time to turn around and look at what we've achieved. I've realised it's really important for us to celebrate our successes as a team."
Samantha recently took on a business partner, Geoff Bainbridge, previously Managing Director of Oakley South Pacific and General Manager at Foster's Group. He is also a major shareholder in the successful healthy hamburger franchise, Grill'd.
"Up until this year I'd pretty much handled the business side of things entirely by myself, but you can only stretch yourself so far and it's important to focus on your talents, mine being more on the creative side. It's really great to have Geoff on board to concentrate more on the business side."
The face forever?
Probably the most exciting person to ever come out of Port Macquarie—where she has a loyal following—Samantha says she will miss Australia, where she's a celebrity ambassador for hairdressing giant Toni and Guy, and has been an ambassador for Tourism New South Wales. It's not helped by the fact she'll be moving to America just in time for their winter.
It's no doubt a natural time for her to reflect on the past and where she's heading, and she accepts she won't be the face of the brand forever. "I'm comfortable with it but moving forward as the business grows, I'm going to be needed in a lot of other areas. At some point I'll probably step back from that and sit across just the creative direction. I won't be the centre of the brand forever."
She assesses what's happening with the business every couple of months. "As you meet different people and make new contacts, opportunities present themselves that you didn't even think would ever cross your path," she says.
Looking to the future
In three years' time she'd love to see standalone Samantha Wills stores in Australia and certain cities overseas. "Our brand is much more than just the product, it's the packaging and the essence of it. If you have your own stores you can present that exactly the way you want to without any of you messages getting lost in translation," she says. "I'd love to see that."
But for now, her focus is well and truly on the US. "Establishing the brand in America means establishing the brand worldwide."
Watch this space.
For more information on Samantha Wills and her products, please visit www.samanthawills.com.au
Quick Fact: Celebrity Samantha fans
Pink
Natalie Bassingthwaighte
Jennifer Hawkins
Delta Goodrem
Nicole Ritchie
Nicky Hilton
Jamelia
People who read this, also liked:
Moi Moi: Bright idea brings sparkling success