Looking for love in all the wrong places? To help people find the 'pawfect' life partner – and to give displaced pets a second chance – entrepreneurs Ben Burton and Pierre Moio founded Zeppee.   
Released in March, this year, Zeppee is a free, location-based platform for buying, selling and – most importantly – rehoming pets in Australia. Affectionately named after Ben's kitten, the mobile app allows users to browse pet profiles using the 'swipe' UI (user interface) popularised by Tinder and other dating apps: users swipe left on their screen to see the next pet, or swipe right to save a pet to their favourites so they can make contact with the owner, breeder or shelter.
A growing number of Australia's registered breeders and shelters are listed on the app, which caters for all pets – not just cats and dogs. To help users find a suitable pet, the app enables them to refine their search by pet type, breed, age and distance. According to its founders, Zeppee is the only platform that uses GPRS technology and the user's locations to identify relevant, nearby pets for sale or adoption.
To date, the app has more than 3,500 users across Apple and Android. It also has listings for more than 3,000 pets across Australia – 'From Darwin to Melbourne, from Perth to Byron Bay," Ben told Dynamic Business – and this number is growing every day.
A digital community of pet lovers
"We see animals coming off and on all the time, so it's hard to put a figure on exactly how many have found homes," Ben said. "That said, we've had some amazing traction since our launch and we've been really well received by Zeppee users, including the shelters we work with. For users, Zeppee is fun, it's addictive. I mean, who doesn't love browsing for adorable kittens and puppies?  At the end of the day, we are trying to build a digital community of like-minded people, whose motivation for downloading Zeppee is the welfare of animals. Sadly, a quarter of a million animals are put down in Australia each year.
"As part of our ethical approach, we only list registered breeders and we only permit private users to post one ad – this is to stop practices like backyard breeding and puppy farming. For most people, selling pets or rehoming them is not a weekly occurrence. Pets are a lifelong commitment, so why would private users need more than one ad? In the rare case where a user has a cat and a dog that both need rehoming, a pop-up will ask them to contact us so we can help out."
The therapeutic value of animals
Part of Zeppee's appeal, Ben explained, has been its tongue-in-cheek marketing campaign, positioning the platform as an alternative to dating apps.
"No more swiping through people who aren't guaranteed to love you," Ben said. "Finally, you can meet someone (or thing) who will give you all the affection you crave! In all seriousness, Pierre and I used the 'swipe' UI because we felt it humanised the pets.
"Also, studies show that animal companionship can play a huge role in reducing loneliness and addressing depression and other mental illnesses.  People can sometimes spend their whole lives searching for a soul mate through multiple channels and it may not happen. Pets are incredible in that regard – a cat or a dog can instantly give someone a sense of belonging and a sense of purpose."
First coffee, then cars, now cats (and dogs)
At just 25, Ben – a Coffs Harbour native, living with three cats and a dog – is already a serial entrepreneur. Upon finishing year 12, he went straight into hospitality before opening his first business at 21: Rustic Bean Espresso, a coffee shop operated out of his Kombi van. A few years later, he sold the business and founded Foster & Co Automotive Sales, an online consignment shop specialising in prestige cars. Through this venture, Ben first encountered Pierre, a solicitor from Sydney who was admitted to the Supreme Court fifteen years ago, at the age of 23.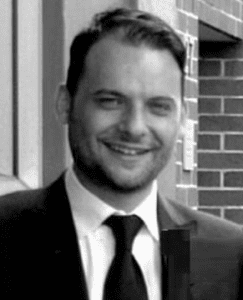 "Pierre had a beautiful AMG Mercedes he wanted to sell, so he became my client," Ben said. "He was doing some work in the car industry too, and we got along really well. At one point, I flew from Byron Bay, where I was living, to Sydney where we met up to discuss the possibility of doing something together, car-wise. Nothing came of it, but we kept in touch.
"The idea for Zeppee subsequently came to me when I saw a lost and found poster for a dog, while walking home one night. It was like a lightning bolt: Pet Tinder. When I was brainstorming ways to get the business off the ground, Pierre sprang to mind. I got in contact with him and we went into business."
"Ever since then, Pierre has spent most his spare time, including evenings, finding ways to make Zeppee the number one platform for all animals. We've spent many late nights on Skype, working towards that goal.
"We make a great team. Pierre's extremely business savvy and grounded, while I bring creativity and child-like enthusiasm to the mix.  He provides direction, including ideas for expansion and new features, while I tackle marketing and design. We're joined by five other team members across marketing and development."
A blessing, a setback and the road ahead
Ben said he and Pierre 'busted their backsides' for months, planning the app and producing all the wireframes, before the time finally came to secure seed funding – this came courtesy of an investor for whom Ben had once sold a Ferrari. Despite this 'incredible blessing', the app development process that followed was plagued by trouble.
"When an Australian company quoted us $400,000 to build the app, we decided to go offshore with a development team that came highly recommended," Ben explained. "They said they could build the app in eight weeks but seven months later, we still had no product – and the code was terrible. They had clearly bitten off more than they could chew and were dragging out the process, so we replaced them with a hybrid team (half in-house, half offshore). The new team realised it would be easier and quicker to rebuild the app from scratch. It was tough but they did an incredible job and I don't know where we would be without them."
Once Ben and Pierre finish the initial app roll out, they will look at replicating the pet aggregator experience on their website. It's also their intention to monetize Zeppee soon. This will involve launching a freemium model with in-app advertising and new features including an 'urgent adoption' bump-up – this will allow people to increase the search ranking and visibility of a pet listing.
"We have some very exciting things planned for the next few months," Ben said. "There's a super-secret, super-cool product and, possibly, some new partnerships. It's all happening – you'll just have to wait and see."