Dean J. Ramler started online furniture business Milan Direct with good friend Ruslan Kogan in 2006. It has grown to become Australia's largest provider of designer furniture with more than 80,000 satisfied customers and more than 300,000 pieces in homes all over the world!
Founder and CEO Ramler's passion for furniture stems from a lifelong immersion in the  industry. He worked for various furniture companies from a very young age and was even logistics coordinator for the Official Furniture Supplier of the 2006 Commonwealth Games. He's been involved in other major projects such as fit-outs for McDonald's, KFC and the MCG.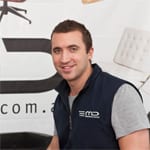 Coming from a furniture family spanning four generations, the Melbournian was born with a passion for classic designer furniture. A budget that didn't quite match his tastes led him to develop an online, direct-to-customer furniture sales model, allowing him to pass on significant savings. Business partner Kogan owns Kogan Technologies, the online discount consumer electronics store.
Milan Direct has been a huge success and now has offices in Melbourne, Sydney, Auckland and London. It recently expanded operations successfully into the United Kingdom. The products imported under the Milan Direct brand are inspired by the collections found in the furniture capital of the world – Milan, Italy. All products in the Milan Direct range are premium-end reproductions of modern retro classics, such as Eames lounge chairs, Le Corbusier sofas, Noguchi coffee tables and more. The range is selected according to functionality, purity of form and aesthetic beauty.
Milan Direct embraces the online space with a savvy search engine optimisation (SEO) strategy and search engine marketing (SEM) campaigns, as well as communicating constantly with customers and fans alike via newsletters, Twitter and Facebook. The brand now has a very loyal customer base, attracted by the promise of great quality at an affordable price. In fact, 30 percent of all sales are generated from repeat business. This loyalty has lead to continual growth since day one.
With further international expansion on the horizon, Milan Direct's goals still remain the same: to provide maximum value for its customers, now, whether they live in Australia, the United Kingdom or anywhere else in the world.