The brainchild of Nicholas Reid and Davide De Vincentiis, Konvo was conceived by the Queensland publishing and marketing duo as a unique social media and ecommerce hybrid.
Currently in beta testing but with an official launch set for mid-January, the app-driven start-up is, Nicholas told Dynamic Business, "the next generation of social commerce (SoCom)".
"For consumers, Konvo is a 'virtual Westfield' – a one-stop-shop where it is possible to purchase from multiple vendors across multiple categories with a single click," he explained.
"The real drawcard, however, is our TrueTrend engine, which enables consumers to see what's trending across their network of peers, creating opportunities for people to strike up conversations with like-minded people.
"On the other side of the equation, the platform is a rare opportunity for merchants, particularly bricks-and-mortars businesses, to launch a self-branded ecommerce portal without any upfront costs. It's free to sign-up and merchants have access to a self-branded point-of-sale for their goods or services.
"Traditionally, if a merchant wanted to launch an online store that was customised to their brand, they'd have to engage an agency to build them a site or sign-up for a service like Shopify, Bigcommerce or Volution to establish an online presence – these options typically involve an upfront cost or ongoing monthly fees. Konvo removes these impediments; instead, we use a simple percentage-of-sales model, which means merchants only pay a percentage based on what they sell."
"It's hard for people to sort through the noise"
According to Nicholas, an article on CNET [1] from late 2013 served as the inspiration for Konvo. The headline posed a question that resonated with him and his co-founder: 'Why isn't there a Steve Jobs of social networking?'
"The author was in disbelief that someone hadn't come along to 'put a visible crack into Facebook'," Nicholas told Dynamic Business. "This prompted Davide and I to begin looking at social media a little differently. We were inspired by Steve – as a marketer, he approached tech from a different perspective, not only simplifying it but transforming it into a consistent brand experience. We asked ourselves whether we could similarly improve social media, even simplify it. The answer, we felt, was 'yes', which emboldened us to research whether there was an opportunity to launch a viable business.
"It wasn't long before we discovered a prevailing consumer problem; namely, growing 'social irrelevance'. As social media use increases and intensifies, so too has the volume of content on platforms, making it more difficult for users to sort through the social 'noise' and join conversations that are relevant to them. Facebook tries to counter social irrelevance with automated algorithms that target what it thinks you may be interested in, based on your platform interaction history, etc. However, Davide and I believed it would be more efficient and relevant if users were able to see exactly what their friends were talking about in real-time, giving them the opportunity to join in meaningful conversations.
"Having identified a solution, Davide and I married this to an opportunity around social commerce and conversational transactions. Shopping is, and always has been, a social activity with peer validation and influence playing a critical role in purchasing decisions – in fact, our research showed that it drives a whopping 43% of online purchase. With e-commerce sales set to increase to $3.5 trillion in 2019, we saw an opening into this thriving industry by focusing on – and enhancing – the social aspect."
"The art of conversation has been lost"

To help realise their vision, Nicholas and Davide recruited Chris Adams, a veteran of Amazon and Facebook in the US. With the former, Chris led entertainment business development for four years, securing deals with the likes of DreamWorks, Fox, Universal Pictures, Sony and Disney. With the latter, he worked alongside Mark Zuckerberg in Menlo Park, California at the time when the social media giant was still a fledgling start-up.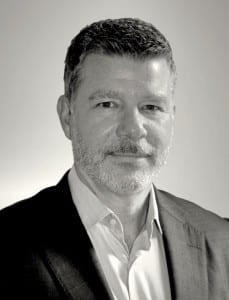 "Chris gives Konvo critical strategic insights into the global social and ecommerce business," Nicholas explained.
"That knowledge is hard to come by in the US, let alone Australia. Of course his belief in our platform has given Davide and I, along with the business, strong market credibility."
Chris, now Konvo's Commercial Director, revealed to Dynamic Business that he joined Nicholas and Davide's team because they were onto something big: "I firmly believe, as do Nicholas and Davide, that social media – especially social commerce –  needs to evolve. Although messaging and social media have emerged as the dominant communication channels, the art of conversation has been lost. I saw Konvo as a solution in that it represented an open, holistic and more natural platform where anyone can engage in conversation about anything – life, shopping, music, events…you name it."
"Launching a start-up required a career re-focus"
Nicholas said his business partnership with Davide has been fruitful due to their 'unique blend of corporate experience and entrepreneurship' and a 'collective understanding of business, consumers and content'.
"Davide began his career in the property and tourism industries before boldly seguing into marketing and publishing," he said.
"Meanwhile, I've held senior management positions with Ogilvy and Leo Burnett, among other multinational advertising firms, and led a small agency.
"We're good friends who've been involved in a number of businesses together, including successful publishing and advertising group Nüde. Davide started the company but we later joined forces to provide businesses of all sizes effective and affordable brand, advertising, design and publishing solutions. The Nüde Group has worked with brands both big and small over a number of years and Davide and I grew it to be one of the largest agencies in south east Queensland. Today, it's playing a critical role in Konvo, driving the advertising and visual communication side of the business. Launching Konvo while also running Nüde has had its challenges. It certainly required a career re-focus in the first instance. Davide and I are fortunate that our established business affords us the flexibility necessary to spend time growing a start-up.
"We've invested in Australian people and tech"
Moving forward, Nicholas, Davide and their team are focusing their efforts on guaranteeing the platform's success – and that means "constant evolution and innovation" with a view to providing the best user experience.
"We'll be revisiting existing functions to see where we can implement improvements and, further down the track, introducing revolutionary features that will change the face of social and e-commerce," he said.
"Simply put, the easier Konvo is to use, the better our chances. As with any new tech platform, it's never exactly what you want it to be at launch due to time limitations. We've had to deliver our consumer facing stage 1 of Konvo in record time, whereas Facebook had a ten-year head start.  Having said that, we're incredibly proud of how the product is shaping up. It's a testament to our small internal team. To my mind, they're Australia's brightest and finest."
"Australia has an incredible pool of tech talent but government needs to do more to nurture the industry – and that includes creating incentives for start-up investment. From day one, Davide and I made the decision to invest in Australian people and technology including using Atlassian software to drive internal processes. It's an exciting time to be working in the Australian tech sector."
[1] https://www.cnet.com/news/why-isnt-there-a-steve-jobs-of-social-networking/