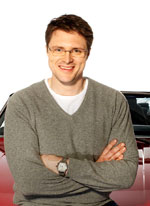 At only 32 years of age with worth approaching $100 million, CEO and entrepreneur Ash Hunter shares the story behind his success.
DB: Tell us about Hunter 5
AH: Hunter 5 is more of a concept than a company. It stems from the five boys from the Hunter family that came to Australia in the 1800s to build their fortune—one of them being my great-great grandfather. They were a bunch of good-natured rat bags and great horsemen, exploring the new country and running cattle. There are newspaper articles berating them for running cattle through townships in the middle of the night trying to keep to deadlines. They were passionate and daring.
The Hunter 5 group of companies began with Just Magazines. My father Shayne started the company in 1989; he had previously launched Unique Cars, Deals on Wheels and Trade a Boat magazines, which were sold to ACP in the mid-1980s. Dad died 10 years ago and left the business to his kids. At 22, I had the opportunity to run this small national magazine company that I had grown up with. Inexperienced but enthusiastic, my fantastic team and I built Just into what it is today.
DB: Do you seek advice in running your business?
AH: The most important advice you can get is through chatting to people. In the early days when things were tight, I spent time testing my business ideas by talking to people involved in that industry. No business will succeed in the long term unless it understands who its customers are and what they really need (it is not always what they think they need either). I have tried talking to only the experts prior to starting a business only to be disappointed with the result. Trust your gut and do your homework as the business fundamentals are something that you create, not just a textbook formula—otherwise everyone would be doing it.
When we started Just Trucks & Heavy Equipment in 2001, I went and spoke to every truck driver I could find, owners of big and small construction companies, people at truck shows, truck stops, construction sites—everyone and anyone that had something to do with the industry. Initially I heard a lot of noise, but with more information came clarity. You need to find the business drivers but, more importantly, you need to find the passion to really understand the marketplace. Our main competitor was the 10-tonne gorilla Deals on Wheels, the market leader that my father had started about 20 years earlier. They are still the market leader however we have grown revenue by 75 percent for the past 12 months and have grown revenue by 1550 percent over the past seven years.
DB: Who are your main competitors and how do you differentiate yourself from them?
AH: PBL's Trader Group is the most similar competitor. Just works closely with our advertisers and our readers to produce very particular products—people are often surprised by the number of adverts we reject as they do not fit our niche. You will not see mobile phone downloads advertised in our publications, nor will you find a non-collectable car in Just Cars. The integrity of our niches has allowed us to maintain our circulation sales in most of our verticals, in a marketplace where the majority are suffering substantial losses. This is why Just Cars, Just Bikes and Just Parts are the largest selling magazines in their categories (cars, bikes and auto parts) with Just 
Trucks & Heavy Equipment and Just 4x4s in the top three.
Jellyfish Music competes with most of the world's music companies as the Australian music landscape includes an enormous amount of international content. We don't have massive distribution networks like the majors, nor do we have their marketing budgets. Our focus has been on delivering high quality recordings of great bands in the digital space. In 2007 one of bands, Borne, with the support of iTunes, had a song downloaded 547,000 times worldwide! Due to the proliferation of piracy, bands can no longer rely on album sales to support them; a return to live performance and an increased reliance on sync (used in TV shows and adverts) has forced us to change. A good deal of our income now comes from sync, especially in the USA in shows like Grey's Anatomy and Friday Night Lights.
Our manufacturing companies—King Glass and United Food Service Equipment—compete internationally. We produce commercial grade, stainless steel, bench-top kitchen equipment and glassware. More than 90 percent of our goods are exported to the UK, USA and Europe. We compete with the largest manufacturers of these goods worldwide. Our new glassware factory is close to launching which will produce up to 70 million glasses per annum including tumblers and stemware, and we are already constructing the next phase that will more than double our production.
Our smaller ventures operate in very dynamic spaces, competition is strong and ever changing.
DB: What's the biggest mistake you've made and how did you rectify it?
AH: Failing to monitor progress properly. In the past I have assumed that people always follow up and complete tasks in line with decisions made. I now realize that this does not always happen so we have introduced some simple action lists/WIP documents that we regularly circulate. This type of transparency does wonders for productivity.
DB: What is your proudest moment so far?
AH: My staff threw me a party to celebrate my 10 years as CEO. For the second time in my life, I was speechless. It was great that the people most important to me share my dream and want to celebrate. I am pretty lucky to have such an outstanding crew. The first time I was speechless was at my wedding.

FREQUENTLY ASKED QUESTIONS
Q. At what point did you know you had made it as a business owner?
Made it? I'm still learning, building and having a ball! When I think I have made it, the dream will have died. I never plan on 'making it'; for me it is about a wonderfully exciting journey that I get to share with some pretty amazing people.
Q. What advice would you give business owners starting out?
Build through passion. The two best pieces of advice that my dad gave me are: "You are here for a good time, not a long time" and "If you do something for the money you will fail, if you do something that you are passionate about you will always succeed". I honestly believe this: success can be measured in a number of ways—but the most important measurement is if it really makes you smile.
Fast Fact
Hunter 5 comprises a number of divisions:
Publishing: Just Magazines
Music: Jellyfish Music
Property: Purchase 4 Investment Group
Manufacturing and Sourcing: King Glass in China, United Foodservice Group in Hong Kong and China
Charity: Hunter 5 Foundation
Smaller ventures including application development for social media, video production, high-end sound system equipment and a few other fun things
People who read this, also liked:
Samantha Wills: Brainy, beautiful and successful