We quiz Hillier's Chocolates' general manager AnnaMaria Lapetina with eleven questions on her experience making chocolate working in a Australian family business.
1.     Tell me a little about the story of Ernest Hillier and your journey there so far.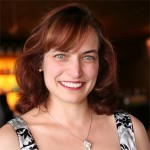 Established in 1914 in Pitt Street Sydney by Ernest Hillier, Hillier's quickly established a reputation for manufacturing premium quality chocolate. Following the depression Ernest moved the business to Melbourne where there appeared to be a better market for premium chocolate. Since then the business has changed hands only twice, and the company remains completely privately owned and run.
I joined the business when my father, current owner and Director Sam Piedimonte, purchased Hillier's in 1995.  Since then my roles have evolved from product development, accounting, sales and marketing, to my current role as General Manager, where I oversee the entire business with my team of managers.
2.     What kind of experience did you bring to the role?
I have always been in the food industry from the retail sector to wholesaler.
3.     What do you hope to achieve in it?
My vision for Hillier's is twofold.
The first is to introduce Australians to quality chocolate. Similar to the way Ernest Hillier educated Sydney as to the way chocolate should be, in today's market place with so many inferior products and imported goods on the shelves Australians are being deceived as to what real quality chocolate is.
Hillier's chocolate is made the way real chocolate should be made. Our standard milk and dark chocolate contains 34% and 53% cocoa respectively and we are currently finessing a recipe for 70% dark chocolate and No added sugar chocolate.
Chocolate has various uses and meanings for people. If it's just a quick sugar hit you are after, then anything will do.
At Hillier's we aim to make memorable chocolates for memorable occasions, just like Ernest did. Every product in our collection is unique. We like to think that each chocolate has its own identity from the flavoured centre to the packaging. Hillier's are the kind of chocolates you share with the people you love. We do not see ourselves as a 'Me too' company. We are sophisticated, innovative and individual and everything we do aims to reinforce these values.
4.     What are some of your innovations at Ernest Hillier?
At Hillier's we are constantly cooking up ideas to create new and innovative chocolate treats. Recently we launched our Dessert Collection. These melt in your mouth soufflé style chocolates are inspired by the tastes of grandma's kitchen. With mouthwatering flavours such as crème brulee, sticky date and lemon meringue, coated in delectable milk and dark chocolate they are the perfect dessert to follow any meal.
We also decided this year to give Australian's a "White Christmas" with our new White Christmas Pudding chocolates.  A delectable white chocolate centre mixed with citrus peels, nuts and cherry pieces smothered in smooth milk chocolate. The perfect alternative to the traditional pudding.
We've also just launched a new range of deliciously soft and gooey chocolate coated nougats. These come in three flavours; Soft Almond, Soft Hazelnut and Soft Cherry Nougat.
5.     What are some of the challenges of running a quality chocolate company in Australia?
There are challenges within the market that I must plan for and deal with on an ongoing basis. An example of such a challenge is the increase in the importation of cheap Chinese chocolate into the country. We are dedicated to educating both major retail buyers and consumers to support Australian Made products. Consumers should look out for Australian made chocolate. There is a lot of chocolate products coming through from overseas but it's important to support local businesses.
Another challenge facing us are the changing trends in consumer tastes which are evolving constantly such as the emergence of the recent trend in consumers buying organic chocolate.  This pushes us to remain innovative and to develop new products on an ongoing basis.
6.     What are you most proud of during your time at Ernest Hillier?
I'm proud that the business is still Australian Family owned and made. Hillier's is Australia's oldest chocolatier and I am proud to be part of the team that keeps this iconic brand alive. We have achieved so much over the last 15 years including launching a new website, streamlining the range to keep it focused, launching the new Heritage range, hiring additional staff, increasing turnover significantly and appointing a new distributor in New Zealand making Hillier's an international brand.
When I reflect back to the first day I walked in the door and now see all the products we have developed and produced such a wide range.  I'm just so proud.
7.     What is it like working in a family business?
I love working in a family business. At Hillier's we are passionate in everything we do. Being a family-owned business makes it more than just a job. We are constantly striving to protect the family name and maintain the quality and image of the products. We have an incredible support network here and it's great to have this behind you every day.
8.     How do you manage a work/life balance with a young family?
I'm very lucky to have a very supportive husband and brilliant kids.    I always make time for them, when they need my attention, from helping with homework to just sitting around and joining in the activities they are doing.   When I am with them the mum hat goes on.
I have a great family network. They are very supportive and see the dream and goal we as a family want to achieve.
9.     What are you motivated by?
I'm motivated by my Dad, Sam. His positive can-do attitude is inspirational. He's still very much involved in the business and the support and guidance he gives me is great. I'm motivated by family.
10.  Are you a chocoholic yourself?
Absolutely.  I love chocolate. But I do have to limit myself each day.
11.  What sets Ernest Hillier apart from the competition?
Our heritage. We were Australia's first chocolate company. In the beginning Ernest himself changed the landscape of confectionery in Australia and this drives us to be continually innovative with what we do. We strive to set ourselves apart from the rest. Our chocolate has its own identity from the flavour we create to the packaging.
We are dedicated to developing products that are not on the market.   Such as our new dessert range.