As the world's largest democracy, one of its fast-growing economies, and with a population of 1.3 billion people, India is a difficult market for Australian exporters to ignore.
Australia and India have long enjoyed strong political, economic and community ties. India was Australia's seventh-largest trading partner and sixth-largest export market in 2020, driven by coal and international education. 
In 2019-20, Australia's trade with India amounted to:  
Merchandise exports – A$10,930 million     
Merchandise imports – A$4,745 million    
Total merchandise trade (exports + imports) – $A15,674 million
Exports of services to India – A$7,720 million   
Imports of Services A$2,851 million
More comprehensive trade data can be found at DFAT.
To understand the potential of this market, it is worth considering that India is the world's youngest major economy, with 600 million people aged under 25. While only a small portion of these young people will be in the target market for Australian premium products, it is a demographic that will drive e-commerce sales from A$50 billion today to A$200 billion by 2025.
India's recently released Australia Economic Strategy, which complements the India Economic Strategy released in 2018, identifies 12 focus sectors with mutual opportunities, including mining, agritech, health and water. 
There are emerging opportunities across several sectors, including agrifood, health and mining. This is being driven by:
Growing demand for premium food through high-end retail outlets and e-commerce
India's health reform agenda, which is creating opportunities for Australia's health technology providers in areas such as diagnostics, data management and telehealth 
The increased use of renewables as part of India's energy mix and the supply of critical minerals such as lithium and mineral processing technology
Food and agribusiness lead the way
Australia's 'clean, green' foods have an excellent reputation in India. This is being fuelled by improved prospects for finding new customers, with an increase in e-commerce channels and supermarkets.
Australia is recognised as a quality provider of premium food, health, and lifestyle products and marketplace disruptors like Amazon and FlipKart provide Australian businesses unprecedented access to Indian customers.
"Growing opportunities exist across the premium food and beverage sector as Indian consumers are becoming more exposed to global food trends and tastes, mainly through gourmet retail chains, e-commerce, online kitchens and fine dining," says Ms Catherine Gallagher, Austrade's General Manager South Asia.
"Health supplements and nutraceuticals is another [growth] area, in part due to the middle class, which is shifting to nutritional supplements and preventive dietary healthcare. This includes cold-pressed juices, granola, and baked, gluten-free, and trans fat-free products.
"Similarly, agriculture commodities are in demand as Indian food processing companies are looking for partners to deliver high-quality produce."
Infrastructure offers opportunity
India will be investing A$2.1 trillion in new infrastructure over the next five years and
there are opportunities for Australian businesses to share their world-class services and technology in areas like road safety or architectural services.
Ms Gallagher says that Australia is increasingly seen as a trusted supplier in India. "There is increased interest in Australian start-up hubs, renewed appetite in Australian infrastructure investment, collaboration in critical minerals and coal gasification," she explains.
"In infrastructure, there continues to be opportunities for Australian companies in brownfield asset development in India, with transportation (including roads and ports) and digital infrastructure key prospective assets."
Mining and resources remain strong
India has an ambitious strategy to upgrade and privatise its mining sector. Australia is already a leading provider of mining equipment, technology and services to the country. Our added capability in an area like processing technology for critical minerals can help to address this capability gap for India.
"India's continuing appetite for infrastructure development and the urbanisation of its rural population suggest strong demand for resources will continue, particularly for metallurgical coal, and also for copper and gold," says Ms Gallagher.
The country remains heavily reliant on imported oil and gas. As India continues its focus on modernising its mining sector, Ms Gallagher predicts further opportunities are likely for Australian resources and METS suppliers.
Opportunities in education 
Despite the current challenging environment, India remains a key long-term partner for Australia in education. India is Australia's second-largest source of international students and a growing partner for education technology solutions, particularly in light of limited student mobility.
India announced a new National Education Policy in July 2020, its first in 28 years. 
"This has opened opportunities for Australian providers to internationalise India's higher education and vocational education systems, including increased foreign provider access," says Ms Gallagher. "Under the policy, the top 100 foreign universities will be invited to establish campuses in India once the legislative framework is put in place to facilitate their entry."
"Reskilling and upskilling youth, including through the integration of vocational education into mainstream education, remains a key priority for the Indian Government," she continues. "This will create further opportunities for Australian education providers to partner with Indian institutions."
Emerging opportunities abound
Over the next 20 years, a growing India could benefit from many of Australia's goods and services, including agriculture, education and skills training, and healthcare.  More specifically, new opportunities are emerging in cyber-security, critical minerals, grains management and logistics, and vocational education and training.
To take the example of the healthcare sector, opportunities exist for Australia's digital health and devices businesses to help India realise its vision to achieve a five-fold expansion of its medical devices industry by 2025.
Underpinning this growth will be The Comprehensive Strategic Partnership (CSP), which is based on mutual understanding, trust, common interests and the shared values of democracy and the rule of law.  
In addition to the CSP, eight substantive agreements covering defence, economic, education, scientific and technology cooperation were signed, with both countries also committed to working together to create improved opportunities for both countries.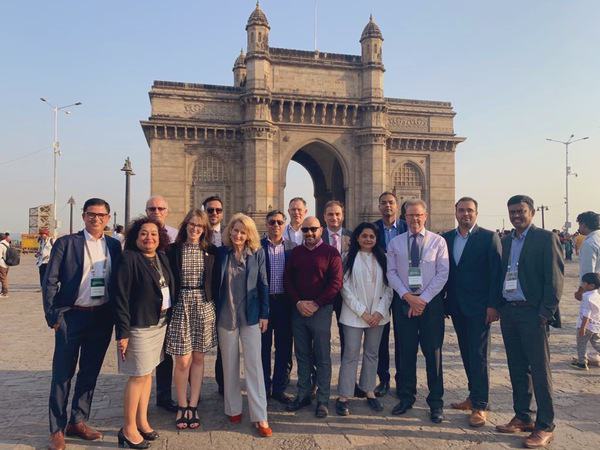 The COVID-19 challenge 
India's economy was beginning to recover from a period of slower growth before the COVID-19 pandemic, but the unprecedented second wave of COVID-19 impacted the country further, adding new challenges. Lockdown and curfew laws implemented heavily impacted consumer demand and disrupted supply chains. 
Ms Gallagher says that beyond the immediate challenges of COVID-19, there are other business considerations exporters need to recognise. 
"India is a large and culturally diverse market and as each region is different, the business plan and problem-solving approach needs to be tailored accordingly," she explains.
"Exporters can face many challenges ranging from navigating the regulatory framework, to identifying the right distributor/ partner, to understanding differing consumer needs in various regions.
"Australian companies should narrow their attention to key regions depending on their sector focus and remember the importance of working with a qualified local partner.  This could be appointing in-market representation such as agents and distributors; setting up branch/liaison offices; and or entering into joint ventures and local subsidiaries."
Australia – India Business Exchange (AIBX) supports Aussie exporters
The Australia – India Business Exchange program (AIBX) is Austrade's flagship program to strengthen Australia-India commercial links. The initiative launched by Minister for Trade, Tourism and Investment, Dan Tehan, on 6 April 2021, is designed to provide businesses from both sides with confidence and capability to engage across the two markets. 
The AIBX platform helps exporters overcome challenges they may face when exporting to India. It has also been designed to build two-way business literacy and drive commercial outcomes. 
The pandemic has accelerated the adoption of digital platforms, digital payments and driven a surge in online retail in India. This has presented opportunities for Australian suppliers, including premium food, health and beauty products, to reach the vast Indian consumer class through e-commerce.
Some flagship initiatives held so far include: 
India critical minerals demand study
The India critical minerals demand study focuses on unlocking the commercial partnership opportunities and addressing India's plans for supply chain diversification. The preliminary findings indicate strong demand from existing sectors of metallurgy, chemicals, defence and miscellaneous industrial uses for some of these minerals, and high future potential demand from others from the battery, magnets and other sunrise sectors.
Inclusive economic participation – insights from female leaders in India and Australia
This AIBX event, held in partnership with Asialink Business and the Australia India Business Council (AIBC), focused on fostering an inclusive and encouraging business environment for women in business.
Australia-India Water Dialogue
As part of the Comprehensive Strategic Partnership (CSP), Australia and India renewed a MoU on Water Resource Management, to facilitate cooperation on water resource management by sharing policy and technical experiences. In December 2020, the Australia – India Water dialogue was inaugurated, and the first meeting of the dialogue focussed on "Dam Safety and Operations Management". In partnership with Australian Water Partnership and the Department of Agriculture and Water Resources (DAWE), Austrade will hold additional meetings as part of the Australia – India Water Dialogue (AIWD). 
Austrade and its partners are also designing a set of AIBX tools and services that will help position exporters for success in India.  This includes an E-commerce Guide, market literacy webinars that provide in-depth information on the market dynamics and policy framework, and sector-specific studies outlining the insights on the opportunities and business environment. 
Read more: The Australia India Business Exchange (AIBX) to provide support for Aussie exporters
Further information on the Indian market
Austrade has six offices across India (Bengaluru, Chennai, Hyderabad, Kolkata, Mumbai, and New Delhi) to support Australian exporters keen to enter the market. 
Austrade's website has an India country page  which includes the following information to help exporters:
Market profile
Doing Business 
Austrade assistance
To learn more about how Austrade can help your business, visit austrade.gov.au, email info@austrade.gov.au or phone 13 28 78 (within Australia).
---
Read more: Japan: A sophisticated and reliable market for Aussie exporters
Read more: The UK: Aussie exporters discover new opportunities in a familiar market
---
Keep up to date with our stories on LinkedIn, Twitter, Facebook